dorian scale
Learning modes is an obligatory step for anyone who wants master the improvisation on guitar. Each mode has its own unique sound which depends on how the intervals are mapped across the scale.
To build modes of the major scale you have to move the root on each degrees of this scale. These modes are the most important of the western music and very used in jazz music. Here are the seven modes :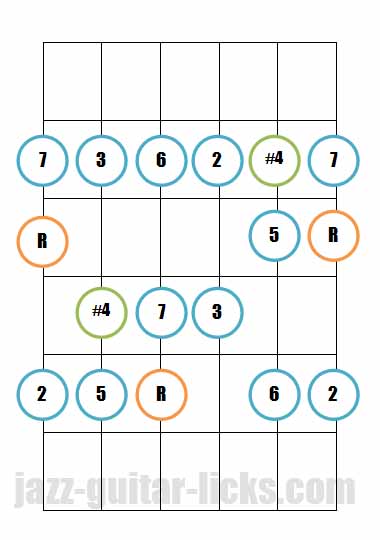 Ionian (major)
Dorian (minor)
Phrygian (minor)
Lydian (major)
Mixolydian (dominant)
Aeolian (minor)
Locrian (half-diminished)
Full course with diagrams & patterns by clicking here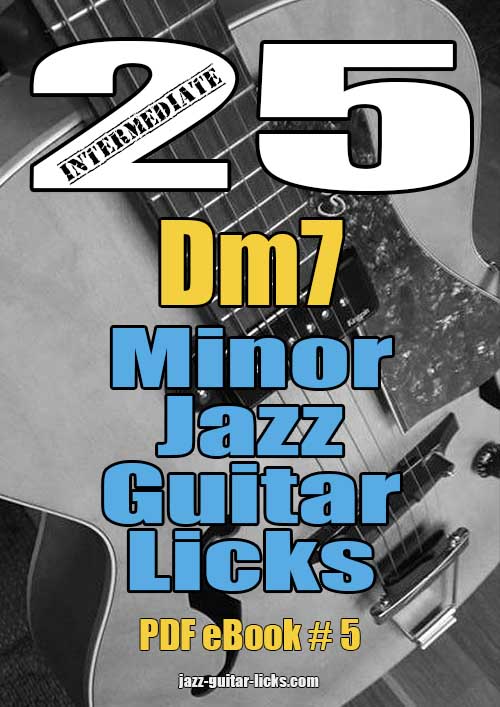 The new "25 minor jazz guitar licks" eBook pdf is now online.
This printable eBook pdf contains 25 minor jazz swing guitar licks with tabs in the style of Charlie Christian, Wes Montgomery, Grant Green,etc. You will find youtube video links and analysis inside.
All theses licks are two-measure licks. Most of them are from the D dorian mode (the second mode of the C major scale). They can be played over a D minor seventh chords (also m6, m9, m6/9, m11), over C major II-V-I chord progression or even over G7 chords.
In this E-book you will learn how to play jazz guitar lines over a D minor chord using the dorian mode, some arpeggio (minor, major, ninth, eleventh, dominant seventh,half-diminished), pentatonic scales, blues scale and harmonic minor scale.
Here is jazz lesson about a Charlie Christian guitar solo transcription (only 8 bars) from the tune "Swing to bop". Charlie Christian used notes from the dorian and the aeolian modes to play over a minor chord progression.