Home

/

jazz guitar improvisation
jazz guitar improvisation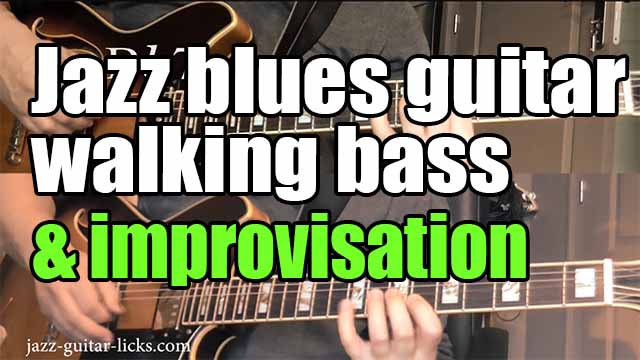 This lesson is about a 12-bar blues in the key of Bb included two guitar transcriptions with tabs : a guitar walking bass line for the accompaniment and a guitar improvisation to solo over.
Note that this study is based on a common blues jazz progression but with a descending chromatic progression in bars 7 & 8 using three dominant 7th chords (Bb7, A7, Ab7) to approach G7 at the end of the bar 8.
Bb7 | Eb7 | Bb7 | % |
Eb7 | Edim7 | Bb7 A7 | Ab7 G7 |
C-7 | G7 | Bb7 G7 | C-7 F7 |
Jazz guitar improvisation on the jazz standard "There will never be another you" (64 bars)

The first thing to know before starting exploring the twelve different scales shown in this lesson is how to build a basic dominant 7th chord and what its role is.
Dominant 7th chords are made up of a root / tonic (1), a major third (3), a perfect fifth (5) and minor seventh (b7). It is the most versatile of any chord. It is considered as a major chord because of its major third (3), indeed the 3rd tell us if the chord is minor or major. The minor seventh (b7) indicates whether the sound wants to move or not (resolve) to another chord. Usually dominant chords tend to resolve to a chord down a prefect fifth (or a chord up a perfect fourth).
| | | | | |
| --- | --- | --- | --- | --- |
| C dominant 7th chord | C | E | G | Bb |
| Intervals | 1 | 3 | 5 | b7 |
| Related Arpeggio | 1 | 3 | 5 | b7 |