Locrian mode

Ecclesiastical modes, also named "Greek modes"or "church modes" or "Gregorian modes" formed in the Middle Ages a set of scales whose use has weakened because of the appearance of the major / minor tonal system. Several centuries later these modes have reappeared. They are very used in jazz improvisation as scale of chords and modal playing.
The minor II-V-I chord progression is widely used in jazz music, it's a very important sequence to know for any jazz guitar player 'cause it's present in many jazz standards. How to play over this chord progression ? Which scales to use ? Which notes to play ? There is a lot of ways. In the following lick we will use the Locrian mode (seventh mode of the major scale) to play over the Dm7b5 chord and a B diminished 7th arpeggio over the G7b9 chord. Please notice that the minor II-V-I chord progression is Dm7b5 | G7b9 | Cm (Maj7) | % |
Learning modes is an obligatory step for anyone who wants master the improvisation on guitar. Each mode has its own unique sound which depends on how the intervals are mapped across the scale.
To build modes of the major scale you have to move the root on each degrees of this scale. These modes are the most important of the western music and very used in jazz music. Here are the seven modes :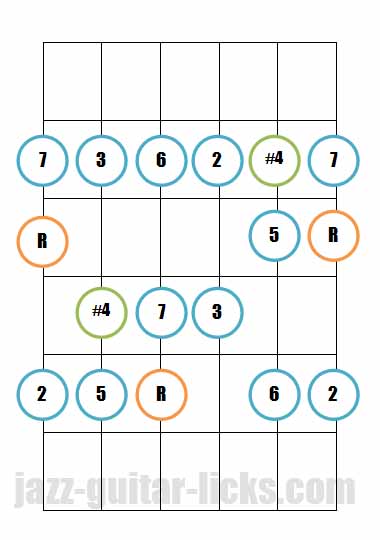 Ionian (major)
Dorian (minor)
Phrygian (minor)
Lydian (major)
Mixolydian (dominant)
Aeolian (minor)
Locrian (half-diminished)
Full course with diagrams & patterns by clicking here