mixolydian mode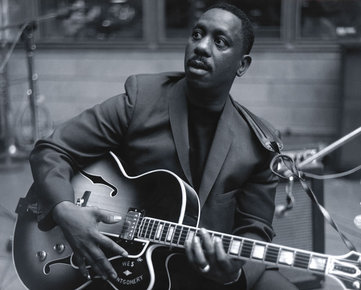 Wes Montgomery was an american guitar jazz player, considered as one of the greatest jazz guitarist of all time. He has influenced and influence again a lot of jazz guitarists. His playing is characterized by the use of his thumb instead of a pick with incredible dexterity. His guitar solos are gold mines for jazz guitar students.
He often approached his guitar solos by following the same chords progression in three ways and in the same order:
In single note lines using arpeggios, scales and modes.
By playing octaves.
By playing block chords.
Wes Montgomery played almost exclusively on a Gibson L-5 CES plugged most of the time into Fender amps (super reverb, twin reverb, deluxe). He also played on Gibson L-7, Gibson L-4, Es-175, ES-125D.
You will find in this free jazz guitar lesson 10 easy dominant 7th jazz guitar licks with tabs transcribed from "West coast blues". They are all in the key of Bb and time signature is 3/4.
---
Learning modes is an obligatory step for anyone who wants master the improvisation on guitar. Each mode has its own unique sound which depends on how the intervals are mapped across the scale.
To build modes of the major scale you have to move the root on each degrees of this scale. These modes are the most important of the western music and very used in jazz music. Here are the seven modes :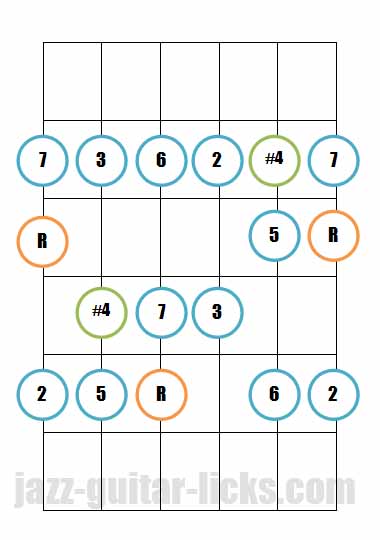 Ionian (major)
Dorian (minor)
Phrygian (minor)
Lydian (major)
Mixolydian (dominant)
Aeolian (minor)
Locrian (half-diminished)
Full course with diagrams & patterns by clicking here
Hi, here is a new jazz guitar lesson with tab using the mixolydian mode & major pentatonic scale to play over a dominant seventh chord. This is another jazz guitar lesson from the "10 major jazz guitar licks" E-book PDF. Learning the mixolydian scale is a must for all jazz guitar player who want to improvise over a dominant seventh chord.