rhythm
A new video has been uploaded on the youtube channel. Jazz guitar comping rhythm lesson & chord study with diagrams.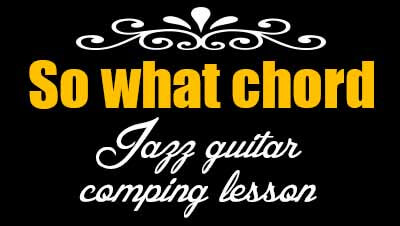 The origin of the "so what chord" name would be due to its use by the jazz pianist Bill Evans in the modal tune "So what" by Miles Davis. This is is a cool and modern sounding chord voicing often used as an alternative to quartal voicings. It is built with a fourth chord on the bottom (3 perfect fourths stacked) and a major third added on the top. This particular chord was originally played on a piano, but it is quite interesting to play it on the guitar to support rhythmically and harmonically a soloist over a modal tune.
This jazz guitar rhythm lesson with tabs and diagrams provides you some interesting ideas of comping inspired by McCoy Tyner's playing on "impressions" by John Coltrane.