Dominant 7th arpeggio | Free lesson with guitar diagrams
On 18/01/2016
Comments (0)
Hi, There is a new page in the arpeggios menu. It's about dominant 7th arpeggios with guitar diagrams, patterns and chords charts.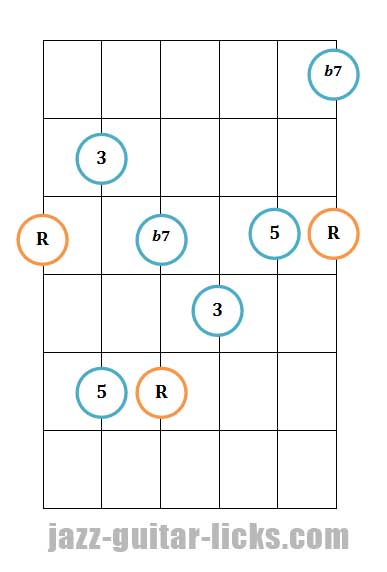 The dominant 7th arpeggio is one of the most played in jazz music. You have play it over dominant 7th chords. It sounds good too over a minor seventh chord starting on the fourth, this part will be developped later in an other lesson. Let's go back to the dominant 7th chord.
The dominant 7th chord has a very important fonction in jazz music so the dominant 7th arpeggio is important too, it's a must know for any jazz guitarist, it is present in many chord progressions. That's why you need to master this arpeggio so, you will find an easy jazz line (over a II-V progression) using a G7 arpeggio and all the basics patterns, diagrams and fingerings about it in this free lesson.
jazz guitar tabs free jazz guitar lesson dominant seventh arpeggios jazz guitar arpeggios dominant 7th arpeggio jazz guitar lessons
Related posts
This free guitar lesson is about a II-V jazz guitar line using a minor ninth arpeggio, dorian mode & dominant 7th arpeggio. Jazz guitar lesson with tab.