5 Tips for a Productive Guitar Practice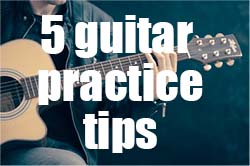 5 Tips for a Productive Guitar Practice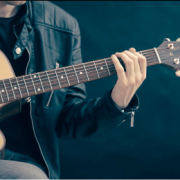 The only way to get better at playing guitar is the productive guitar practice. There is so much information over internet on acing specific guitar techniques, but it's essential to go one step back and reevaluate how effective your guitar practice sessions are to implement those techniques. Here are 5 simple tips which can help you to make your guitar practice routine productive to its full potential.
Tip#1
Understand the difference between 'practicing' and 'playing' guitar.
There is a difference between practicing and playing guitar which some guitarists ignore. If you are just playing the songs that you already know for the sake of your enjoyment, you are not practicing guitar.
Practice happens when you work mainly on the skills that you require to improve and develop so that you won't make any mistakes which limit you from achieving your goals. If you have trouble in finding your mistakes, or the area you should work on to reach your goals, then you should take help from a teacher. A good teacher can direct you exactly to your areas of improvement, and can help you stick to your learning lessons.
Tip#2
Use a metronome in your guitar practice sessions.
You must have heard this before many times. The correct use of a metronome is one of the most helpful ways to lift your guitar practice.
Metronomes are also useful for guitar players that are not much familiar with "sense of rhythm." Luckily, it's something which can be learnt through repetition; therefore even those who can't dance well can hope to play well-timed guitar tunes.
Metronomes today are exceptionally easy. You can surely buy a separate device, but you can save money by downloading a metronome application in your phone.
Tip#3
Work on one guitar technique at one time.
The ideal way to play several techniques altogether is to first practice one technique at one time. Some guitar techniques, for example string bending and barre-chord modifications, might even make your hands ache after lengthy playing sessions. You can balance this out by splitting up a specific technique practice into small intervals. You can give 3 to 5 minutes to each technique in the start.
This tip also helps if you want to understand a specific part of guitar. Figure out the techniques you want to learn, separate them, and practice them one at a time. When you are well-prepared, practice and play them all together. This is one easy and short way to learn playing a new guitar tune.
Tip#4
Add 30 Minute Increments.
Guitar practice for lengthy periods of time is great but it's even better if you commit dedicating some parts of the day to rock-solid guitar practice. 30 minutes at a time is typically best when you want to improve your guitar practice schedule.
Well, to have more focus in those 30 minute increments, break your guitar practice routine into small parts during the whole day so you will have more time with the instrument--As, just 30 minutes is not much time to practice hard, and practicing guitar 30 minutes at different times of your day is easier than playing it continually 2 to 3 hours in one sitting.
Tip #5
Have realistic expectations.
Great thing take time. Even the legendary guitar players didn't have any idea what to do when they picked up the guitar for the first time. If you want your guitar practice routine to be productive and effective an effective, you must set realistic goals. Keeps this in mind that you practice to better your guitar playing skills, not to get appraisal for your current awesomeness. You might think this point is quite philosophical, but it is crucial to admit what your existing weaknesses and shortcomings are as this is the only approach to recognize the areas of improvement, so you must give yourself a fighting chance at becoming a better guitar player.
About the author
This post is written by Kristal Bean:
Kristal Bean is a Southern California-based writer and sometimes guitarist. In her free time, she homeschools, works out and listens to live music. Check her blog greenlightbooking.com