Important Tips to Start Playing Jazz with Acoustic Guitar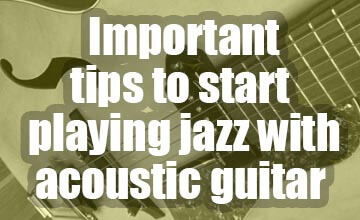 Important Tips to Start Playing Jazz with Acoustic Guitar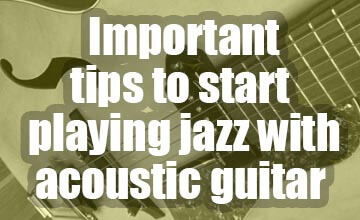 You want to learn how to play jazz ? You are not sure how to start and what are most important tips? Don't worry, in this article you will read more about what is jazz, how to learn jazz on your guitar and how to become true jazz guitar player.
Important Tips to Start Playing Jazz with Acoustic Guitar
Jazz is very special type of music. You need some skills and knowledge if you want to learn how to play it on your guitar. This guide is all you need in order to start your jazz journey. If you are not sure if jazz is right type of music for you, you can listen to some of the most popular jazz albums to catch a glimpse how jazz really sounds.
Learn about jazz
Most important things you should learn about jazz music are scales, jazz standards and some guitar standards. Scales are first on our list. Before you start to learn how to play jazz, you need to know your own basic scales, such as major and minor scales. In jazz, sometimes, Mixolydian scales and Dorian minor are used, so it is good to know this things too. Know your guitar too. If you already have a guitar for jazz, this is good thing. If not, you must know your guitar first. You must know how to play your guitar, how to setup everything and other basic level things. Also, you must know notes on your guitar perfectly. Play on jazz standards - this is also really important thing if you want to become true jazz guitar master. You must learn the melody, remember the right chords and learn how to perform solo. This is all you need to learn!
Improvisation
Main difference between jazz and other styles of music is improvisation. Jazz is well known for lots of improvisation. Guitar player who plays jazz improvise a lot and this is what makes jazz so special. If you want to learn how to play jazz, you must have feeling for improvisation, you need to follow other musicians and react naturally to the melody you hear. This is what jazz truly is - expression of feelings and reacting to other people's music. If you are not good with improvisation, you need to listen jazz music a lot and to learn patterns and scales. This way, you will improve your skills.
Choose the right guitar
Jazz is type of music that lots of people associate with electric guitar. But, playing jazz on acoustic guitar can also be very interesting, and it can sound amazing. Because of this, you need to choose right type of acoustic guitar. You can choose steel or nylon acoustic guitar. This is totally up to you. Nylon acoustic guitar provides warm sound, but if you prefer traditional style, you can use acoustic guitar with steel strings too. Also, you must choose should you use pick or not. Some of most talented jazz guitar players use fingers only instead of picks, and you can try this method too. You need to use index finger, middle finger and ring finger only. If you want to become really talented jazz guitarist, you need to use your own guitar and express emotions through music.
Listen and listen
Every guitar player wants to improve skills over time. And how can you improve skills on your acoustic guitar? By learning new styles and types of music. Jazz music should be on top of your list if you want to become not just awesome guitarist, but also awesome musician. In order to do this, you must learn how to listen. And after you listen, you need to listen some more. If you learn to listen, you will also learn how to memorize some melody, you will learn how to be patient and how to communicate with your guitar. This is not as easy as it seems, so you need to invest some time to become true listener. Main issue with jazz guitar is that many guitarists know chords and scales, but they don't know how to react to other musicians' tune. This is main thing you need to improve if you want to become jazz guitarist. Music is not exact science, it has a lot to do with improvising and to learn as much tune as possible. You can spend months and months of practice in order to achieve this, don't expect results over night, you need to be patient and to invest energy and time for this.
Conclusion
Jazz is type of music with lots of high quality musicians. It has very long history and you need to invest some time to learn about jazz before you start learning how to play jazz on your acoustic guitar. Jazz is one of the most emotional and most impressive type of music. Many people don't listen to jazz because they don't understand it. In order to learn how to play jazz, you must learn what jazz really is. You must listen lots of jazz music, you must learn a lot about jazz and its history, and along these tips, you must practice every day on your guitar to become true jazz guitar player. If you have a chance to play guitar with some jazz musician, that would be great too. You need someone to help you, to motivate you and to show you what you are doing wrong, and what you are doing right. Only this will make you amazing jazz guitar player.
No matter if you are just starting to learn to play jazz on your guitar, or you already have some basic skills, playing jazz music on acoustic guitar can definitely be adventurous. It is a bit challenging but it can be very fun too, so don't wait any longer, start to learn jazz and have some good time while practicing.
Be open to new things and be ready to learn every day, this is what makes good musician.
About the author
This is John Anthony, An Internet Entrepreneur & a Blogger, though behind this I'm a Guitarist. I love to play guitars, playing and collecting cool guitars is my hobby, and all of my friends and relatives know it. I'm Always trying to helps peoples by providing tips about guitar and music.
Guest post How to play jazz guitar for beginner guitar practice guide