New mixolydian jazz guitar lick with tab
On 04/12/2015
Comments (0)
Hi, here is a new jazz guitar lesson with tab using the mixolydian mode & major pentatonic scale to play over a dominant seventh chord. This is another jazz guitar lesson from the "10 major jazz guitar licks" E-book PDF. Learning the mixolydian scale is a must for all jazz guitar player who want to improvise over a dominant seventh chord.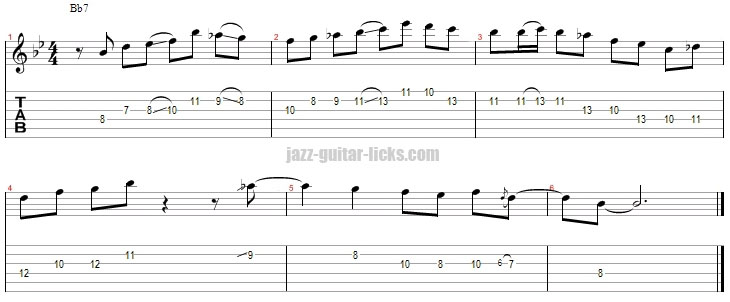 The mixolydian mode is a major scale because of its major third. There is a the b7 in it, that's the difference between the major scale (ionian mode) and the mixolydian scale (also called dominant scale)
Bars 1 & 2 : Notes from the Bb mixolydian scale (Bb-C-D-Eb-F-G-Ab).
Bars 3 & 4 : Classic lick using the Bb major pentatonic scale (Bb-C-D-F-G) with a minor third (Db) between the C and the D.
Bars 5 & 6 : Mixolydian scale with a minor third again before playing (hammer-on) the major third (D).
scales Dominant jazz guitar lick jazz scale jazz modes jazz guitar licks mixolydian mode jazz guitar tabs jazz guitar lessons
Related posts
This free jazz guitar lesson is about 10 Wes Montgomery dominant 7th jazz guitar licks and transcriptions with tabs taken from west coast blues.