NEW PDF eBook available for download - 40 blues, jazz guitar licks with tabs
On 29/08/2016
Comments (0)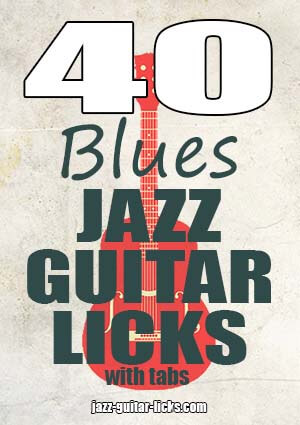 A new PDF eBook is now available for download via the GUMROAD / PAYPAL interface. This jazz method contains 40 jazz, blues licks with tabs, scales charts and two jazz swing backing track in C7.
This PDF booklet is dedicated to the jazz guitar students who wants to improve their jazz, blues playing in the style of Wes Montgomery, Kenny Burrell, Grant Green, Charlie Christian, George Benson, Barney Kessel and more.
Package details :
- 1 printable PDF booklet containing 40 jazz blues guitar licks in C7 with tabs and scales charts.
- 2 blues jazz swing (one chord C7) backing tracks (120 & 150 BPM). That can also be used for dominant scales training. (Quality mp3 audio file).
jazz guitar licks Jazz guitar eBook jazz guitar PDF Blues Blues jazz guitar PDF Blues jazz guitar tabs Jazz guitar method Jazz guitar booklet
Related posts
Jazz guitar students, take advantage of the special offer on the 40 jazz, blues guitar licks eBook PDF. Jazz guitar method.