The minor pentatonic scale | Jazz guitar lesson, diagrams and licks
On 27/06/2016
Comments (0)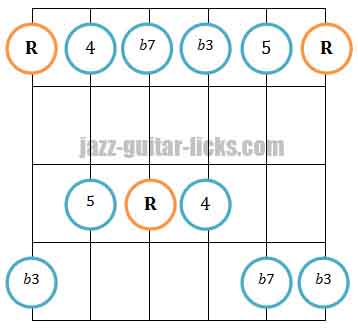 Pentatonic scales are commonly played in all styles of music all over the world. Present in jazz and blues music since their origines, they are the most important scales in jazz music.
The minor pentatonic scale is the fifth mode of the major pentatonic scale (there are five different modes). It is the first scale to master for a guitarist exploring the world of jazz and blues improvisation.
The minor pentatonic scale is easy to remember, easy to play and it sounds very good on a modal tune or a jazz blues (listen to Kenny Burrell or Grant Green).
You can now visit the following link to access this new lesson about the minor pentatonic scale. This free lesson contains five guitar fretboard diagrams and three example licks :
Minor pentatonic lick, Kenny Burrell solo transcription.
How to play the minor pentatonic scale over a II-V-I chord progression.
Soul jazz guitar lick taken from the 25 soul jazz guitar licks eBook.
Thanks for your support !!!
jazz guitar lesson minor pentatonic scale diagrams minor pentatonic scale lesson minor pentatonic scale jazz guitar licks minor pentatonic scale
Related posts
This youtube video contain a guitar transcription with tab and standard notation of "In a mellow tone" (theme) by Kenny Burrell.