Mixolydian and major pentatonic jazz guitar lick
The lick
In this jazz guitar lick we will use the Bb mixolydian mode and the Bb major pentatonic scale to play over a Bb7 jazz swing backing track.
The mixolydian mode, also called the dominant scale is one of the most important scale to know for a jazz guitar player. It is the fifth mode of the seven modes of the major scale. When you have to improvise over a dominant seventh chord (Bb7 in the tab) playing notes from the mixolydian mode is probably the best and simplest way.
The mixolydian mode is a major type scale because of its major third. The difference between the major scale (ionian mode) and the mixolydian mode (dominant scale) is the presence of the b7 in the mixolydian mode.
For example in the key of C
The mixolydian mode is perfect to play over 7, 9, 11 and 13 chords.
Bars 1 & 2 : Notes from the Bb mixolydian mode (Bb-C-D-Eb-F-G-Ab).
Bars 3 & 4 : Classic lick using the Bb major pentatonic scale (Bb-C-D-F-G) with a minor third (Db) between the C and the D.
Bars 5 & 6 : Dominant scale with a minor third again before playing (hammer-on) the major third (D).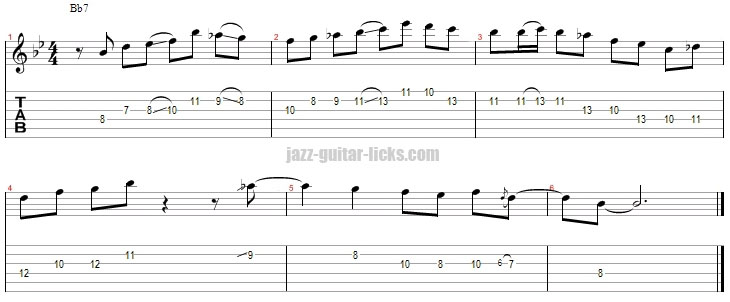 Backing track preview | 160 BPM