130 II V I Exercises For Jazz Guitar - Bundle - 3 PDF Methods & Audio Files
130 II V I Exercises For Jazz Guitar - Bundle - 3 PDF Methods & Audio Files
39 USD (or more) - Secure payment by Gumroad / Paypal
This package contains 3 printable PDF Methods with tabs, audio files and analysis for a total of 130 jazz guitar exercises.
Package Details / 3 RAR Files
40 major II V I licks (audio & pdf)
40 minor II V I licks (audio & pdf)
50 major II V I Chord voicings exercises (audio & pdf)
You will need a file extractor as WINRAR or something else to unzip the files.
----
Immediately after your order, you'll get an automated receipt with a link to download the PDF. (check your spam box)
If you encounter any issues with your purchase/download please check the GUMROAD HELP CENTER.
For further information you can also contact me.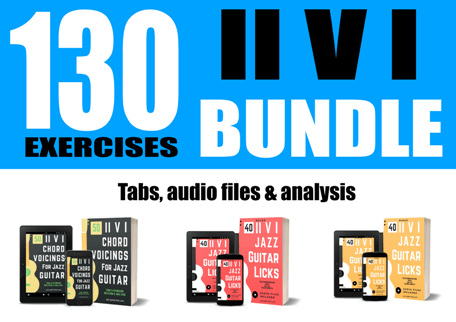 7 USD - II V I Jazz Backing Tracks | Secure Payment By Bandcamp / Paypal
This bandcamp package inlcudes 12 jazz swing backing tracks in twelve keys for practicing over the II V I progression.
Acoustic Bass, drums and acoustic piano with pre count.
Medium Swing - 120 BPM
Wave Files
This guitar poster contains eighteen neck diagrams representing the most used scales in music.

This giant printed color poster contains 63 guitar chord diagrams for jazz players, students, teachers and schools.

Guitar reference poster about Greek modes for guitar teachers, students and music schools.
Last edited: 2021-06-21