130 II V I Exercises For Jazz Guitar - Bundle - 3 PDF Methods & Audio Files
130 II V I Exercises For Jazz Guitar - Bundle - 3 PDF Methods & Audio Files
39 USD (or more) - Secure payment by Gumroad / Paypal
This package contains 3 printable PDF Methods with tabs, audio files and analysis for a total of 130 jazz guitar exercises.
Package Details / 3 RAR Files
40 major II V I licks (audio & pdf)
40 minor II V I licks (audio & pdf)
50 major II V I Chord voicings exercises (audio & pdf)
You will need a file extractor as WINRAR or something else to unzip the files.
----
Immediately after your order, you'll get an automated receipt with a link to download the PDF. (check your spam box)
If you encounter any issues with your purchase/download please check the GUMROAD HELP CENTER.
For further information you can also contact me.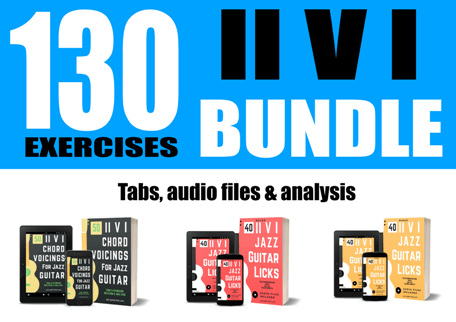 7 USD - II V I Jazz Backing Tracks | Secure Payment By Bandcamp / Paypal
This bandcamp package inlcudes 12 jazz swing backing tracks in twelve keys for practicing over the II V I progression.
Acoustic Bass, drums and acoustic piano with pre count.
Medium Swing - 120 BPM
Wave Files
Last edited: 2021-06-21