130 II V I Exercises For Jazz Guitar - Bundle - 3 PDF Methods & Audio Files
130 II V I Exercises For Jazz Guitar - Bundle - 3 PDF Methods & Audio Files
39 USD - Secure payment by Gumroad / Paypal
This package contains 3 printable PDF Methods with tabs, audio files and analysis for a total of 130 jazz guitar exercises.
Set Details / 3 ZIP Files
40 major II V I licks (audio & pdf)
40 minor II V I licks (audio & pdf)
50 major II V I Chord voicings exercises (audio & pdf)
You will need a file extractor as WINRAR or something else to unzip the files.
►►►
Immediately after your order, you'll get an automated receipt with a link to download the PDF and the audio files.
If you encounter any issues don't hesitate to contact me.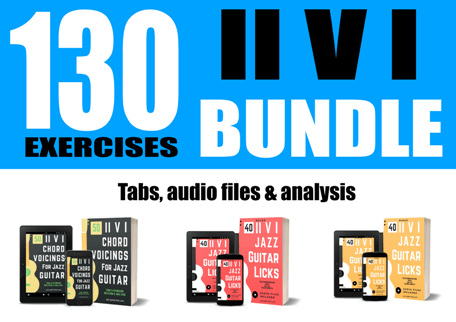 Last edited: 07/08/2020