Dominant 9b13 - Guitar Chord Diagrams - Drop 2 & Drop 3 Voicings
Dominant 9b13 - Guitar Chord Diagrams - Drop 2 & Drop 3 Voicings
What's a dominant 9b13 ?
Dominant ninth flat thirteen chords (9b13) are actually dominant 9 chords with an added lowered 13th. Dominant 9b13 chords are built with a root (1), major third (3), perfect fifth (5), minor seventh (b7), ninth (9) and flat thirteenth (b13). Because it is physically impossible to play all these tones on the guitar, the fifth (5) and the root (1) are generally left out. Thus giving four rootless drop 2 and four rootless drop 3 dominant 9b13 voicings. Therefore, in the following diagrams, the root is schematised by a red dotted circle (R). This will help you locate the chord and give it an appropriate name.
Symbols and notations
Dominant 9 flat 13 chords are generally written 9b13.
Related scale
The scale that fit with dominant 9b13 chords is the fifth mode of the melodic minor scale named mixolydian b13 mode. Formula is 1 2 3 4 5 b6 (b13) b7.
Rootless drop 2 Dominant 9b13 guitar chord diagrams
| | | | | |
| --- | --- | --- | --- | --- |
| Rootless 9b13 drop 2 voicing | 3 | b7 | 9 | b13 |
| 1st inversion (minor seventh in the bass) | b7 | 3 | b13 | 9 |
| 2nd inversion (ninth in the bass) | 9 | b13 | b7 | 3 |
| 3rd inversion (minor thirteenth in the bass) | b13 | 9 | 3 | b7 |
Rootless drop 2 dominant 9b13 guitar chord diagram - Third in the bass - Bass on A string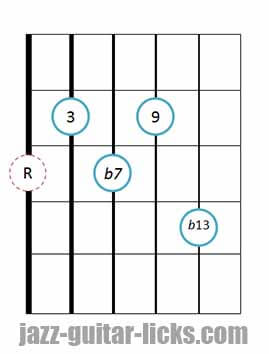 Rootless drop 2 dominant 9b13 guitar chord diagram - Minor seventh in the bass - Bass on A string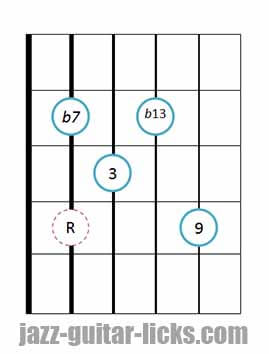 Rootless drop 2 dominant 9b13 guitar chord diagram - Ninth in the bass - Bass on A string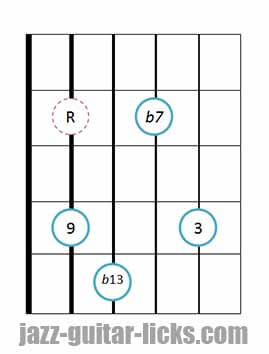 Rootless drop 2 dominant 9b13 guitar chord diagram - Minor thirteenth in the bass - Bass on A string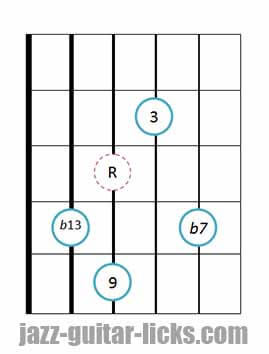 Rootless drop 2 dominant 9b13 guitar chord diagram - Third in the bass - Bass on D string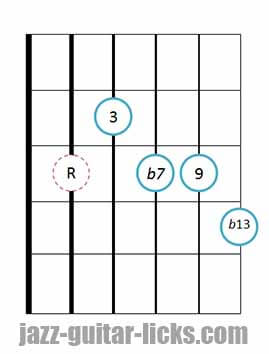 Rootless drop 2 dominant 9b13 guitar chord diagram - Minor seventh in the bass - Bass on D string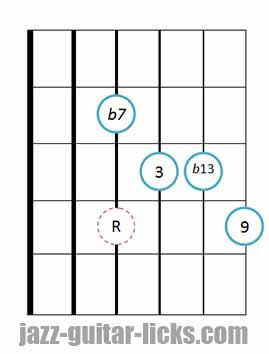 Rootless drop 2 dominant 9b13 guitar chord diagram - Ninth in the bass - Bass on D string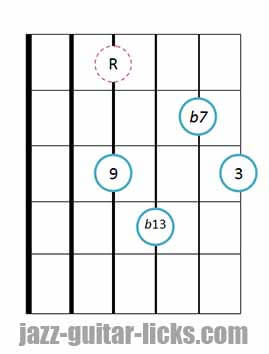 Rootless drop 2 dominant 9b13 guitar chord diagram - Minor thirteenth in the bass - Bass on D string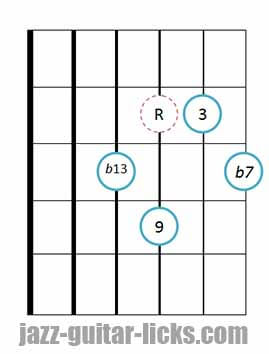 Rootless drop 3 Dominant 9b13 guitar chord diagrams
| | | | | |
| --- | --- | --- | --- | --- |
| Rootless 9b13 drop 3 voicing | 3 | 9 | b13 | b7 |
| 1st inversion (minor seventh in the bass) | b7 | b13 | 9 | 3 |
| 2nd inversion (ninth in the bass) | 9 | b7 | 3 | b13 |
| 3rd inversion (minor thirteenth in the bass) | b13 | 3 | b7 | 9 |
Rootless drop 3 dominant 9b13 guitar chord diagram - Third in the bass - Bass on E string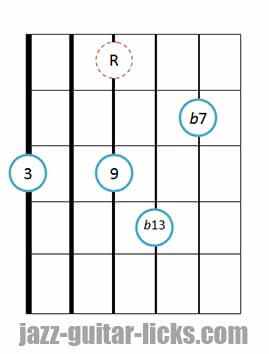 Rootless drop 3 dominant 9b13 guitar chord diagram - Minor 7th in the bass - Bass on E string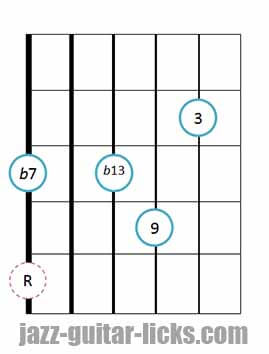 Rootless drop 3 dominant 9b13 guitar chord diagram - Ninth in the bass - Bass on E string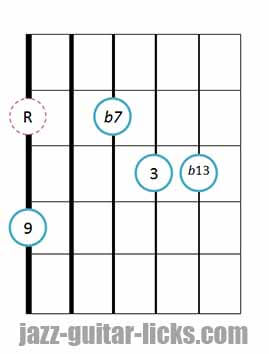 Rootless drop 3 dominant 9b13 guitar chord diagram - Minor thirteenth in the bass - Bass on E string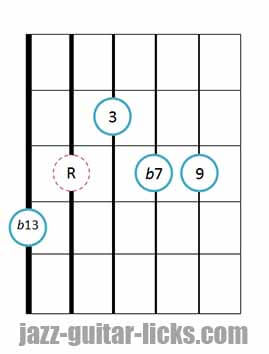 Rootless drop 3 dominant 9b13 guitar chord diagram - Third in the bass - Bass on A string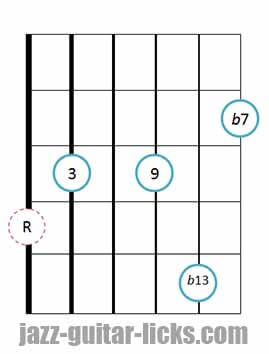 Rootless drop 3 dominant 9b13 guitar chord diagram - Minor 7th in the bass - Bass on A string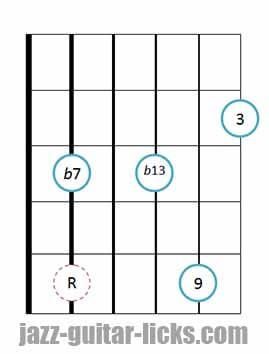 Rootless drop 3 dominant 9b13 guitar chord diagram - Ninth in the bass - Bass on A string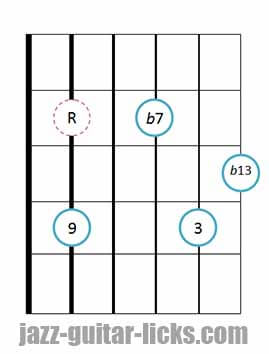 Rootless drop 3 dominant 9b13 guitar chord diagram - Minor thirteenth in the bass - Bass on A string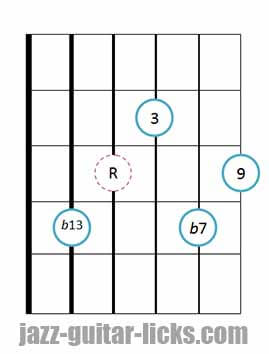 Last edited: 12/24/2018