49 Essential Jazz Guitar Licks - PDF eBook Method with Tabs, Standard Notation & Audio Files - In the Style of Legendary Players
49 Essential Jazz Guitar Licks - PDF eBook Method with Tabs, Standard Notation & Audio Files - In the Style of Legendary Players
15 USD - Secure payment by Gumroad / Paypal
This Printable PDF eBook method with tabs and analysis contains 49 jazz guitar licks transcribed from improvised solos of one of the greatest jazz musicians : Barney Kessel, Cannonball Adderley, Charlie Christian, Emily Remler, George Benson, Grant Green, Herb Ellis, Charlie Parker, Jim Hall, Jimmy Raney, Joe Pass, John Scofield, Kenny Burrell, Mike Stern, Sonny Rollins, Wes Montgomery.
Package details
1 Printable PDF eBook (18 pages) containing 49 jazz guitar lines with TABS, standard notation and analysis.
49 Audio Files (MP3).
----
Immediately after your order, you'll get an automated receipt with a link to download the PDF and the audio files.
If you encounter any issues don't hesitate to contact me.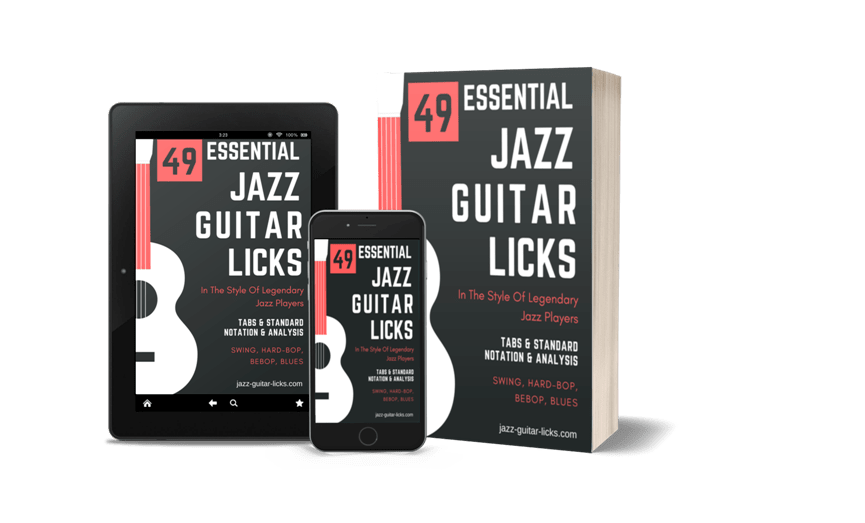 Topics covered
Modes (Mixolydian, Locrian, Locrian 13, Lydian, Dorian, Aeolian, Phrygian)
Altered scales
Symmetric scales (diminished and whole-tone)
Harmonic minor scale
Bebop scales
Blues scales
Pentatonic scales
Chromatic approaches
Enclosures
Triads
Octave playing
Arpeggios
Rhythmic motives
Turnarounds
II-V-I progressions (minor and major)
Blues progressions
Passing tones
Blue notes
Altered lines
Extra-notes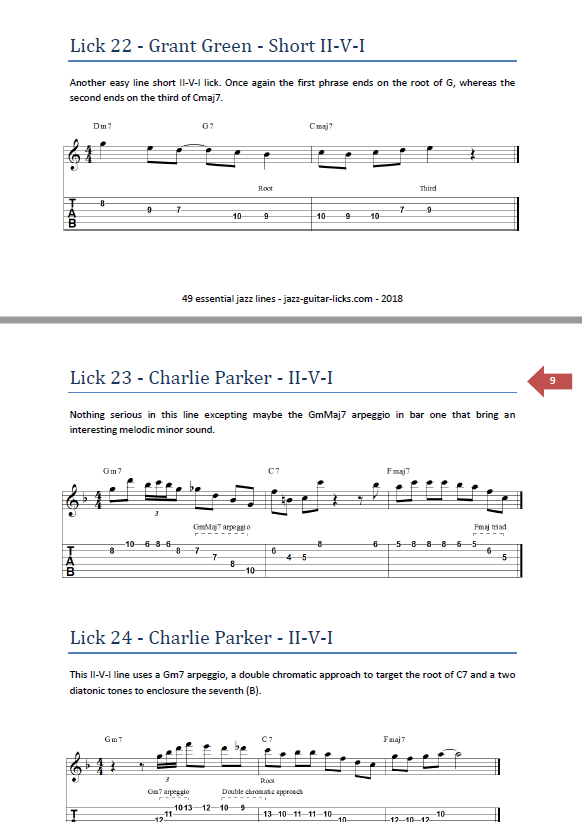 Last edited: 2021-05-13