Guitar Walking Bass Lines And Chords - Mini Lesson 01 (ML 01) -
Guitar Walking Bass Lines And Chords - Mini Lesson 01 (ML 01) -
8 USD (or more) - Secure payment by Gumroad / Paypal
In this mini guitar lesson you'll learn how to play walking bass lines and guide tone chords (shell voicings) over a common jazz blues progression in Bb.
What's In The Package?
One printable PDF file (high resolution) with tab, score, analysis and chord shapes.
One guitar pro file.
One short HD video (exercise played at normal and slow speed).
-----------
Immediately after your order, you'll get an automated receipt with a link to download the PDF. (check your spam box)
If you encounter any issues with your purchase/download please check the GUMROAD HELP CENTER.
For further information you can also contact me.
Walking Bass Lines and Chords On Guitar / Mini Lesson 01 (ML01)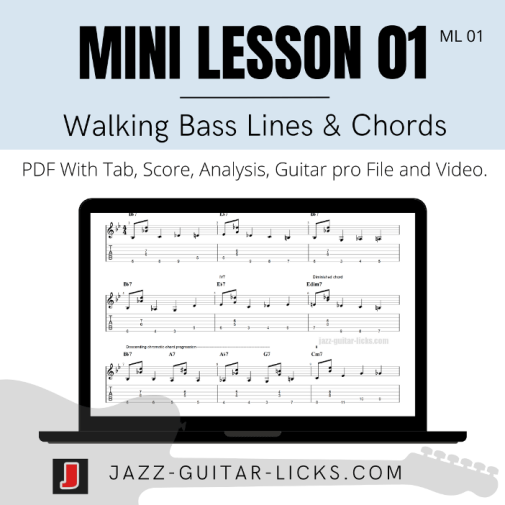 Last edited: 2023-04-02