3 Note Chords - Shell Voicings - Guide Tone Chords - Guitar Lesson With Shapes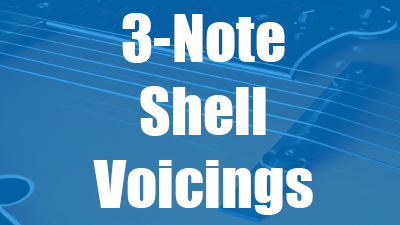 3 Note Chords - Shell Voicings - Guide Tone Chords - Guitar Lesson With Shapes
Shell voicings are better known as 3-note chords. They are made up of the most essential notes (root, third and seventh) that define a chord (the fifth is omitted) .They are very useful for beginner guitarists who want to explore basic guitar comping rhythms.
They also help understanding harmony, how chords are built, what are the intervals that compose them. You will understand that shell voicings are a good introduction to more complex chords.
This lesson with tabs and audio provides the essential chord shapes and exercises for practicing guide tone chords (aka 3-note chords) on guitar.
rhythm 3-note shell comping voicings chords