Connecting Scales And Arpeggios Over Bb Blues - Mini Lesson 08 (ML08)
Connecting Scales And Arpeggios Over Bb Blues - Mini Lesson 08 (ML08)
This package contains a mini guitar lesson (8th of the serie) for practicing modes and arpeggios over a Bb jazz / blues progression.
You will learn how to connect important scales and modes (Mixolydian, Dorian, Diminished) and also arpeggios related to each chord of the following progression:
Bb7 | Eb7 | Bb7 | Fm7 Bb7 |
Eb7 | Edim7 | Bbmaj7 Cm7 | Dm7 Dbm7 |
Cm7 | F7 | Dm7 G7 | Cm7 F7 |
Package Details/
1 printable PDF in high resolution containing tab/score notation.
1 Jazz Backing track (mp3).
1 Short Video.
1 Guitar pro file.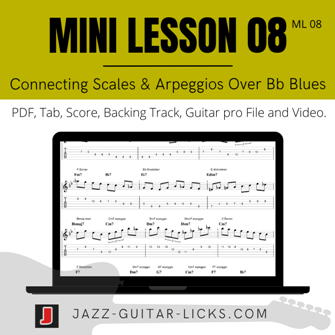 Last edited: 2022-07-27