Minor 2 5 1 Jazz Backing Tracks in 12 Keys - Wave Files
Minor 2 5 1 Jazz Backing Tracks in 12 Keys - Wave Files
7 USD (or more) - SECURE PAYMENT BY BANDCAMP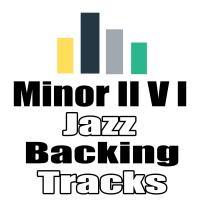 This album contains 12 classic jazz II V I backing tracks in all minor keys. These play-alongs are useful tools for practicing scales, arpeggios and improvisation with your favorite instrument over the most famous jazz chord progression.
12 Wave tracks.
12 minor Keys.
Time signature is 4/4.
Royalty free for each track. In return, please credit Backing Tracks Channel.
Released February 12, 2020 by Backing Tracks Channel.
How to Get The Files?
Click the "buy button" in the bandcamp player below.
Downloadable jazz backing tracks for practicing improvisation over the major 2 5 1 progression in twelve keys.

12 minor 2 5 1 jazz backing tracks for musicians available for download on Bandcamp.
Last edited: 2022-03-22