Welcome To Jazz Guitar Licks

Everything you ever wanted to know about jazz guitar chords is here. How they are built, how​ to play them on guitar .
These lessons ​with tab, charts,​ diagrams and practice tips give useful information on triads (major, minor, diminished, augmented, etc.), tetrads (seventh and sixth chords) , extended chords (9th, 11th, 13th) , altered chords, drop voicings, etc.​​​
►DOMINANT SEVENTH FLAT NINTH CHORDS
and many more
Jazz guitar scales are very important devices when learning jazz guitar.
You will find in these lessons the most important scales and modes that any jazz guitar player need to know such as diatonic scales, melodic minor, harmonic minor, harmonic major, melodic minor, symmetic, pentatonic scales, bebop scales, blues scales.
Each article contains charts, exercices, theoretical explanations and guitar shapes.
► MODES OF THE HARMONIC MINOR SCALE
► MODES OF THE HARMONIC MAJOR SCALE
► MODES OF THE MELODIC MINOR SCALE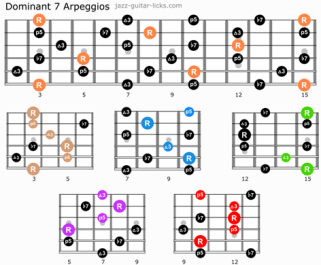 Arpeggios are very used tools when improvising on chord changes because they easily outline the harmony of any jazz tune.
They also have the advantage of being quite easy to learn and to play on guitar, that's the reason why beginners generally start to learn jazz improvisation using arpeggios.
There is a plethora of arpeggios used in jazz such as triads (minor, major, diminished, augmented, sus2, sus4), tetrads aka four-note arpeggios (maj7, min7, dom7, dim7, m7b5, 7sus4, 7sus2, min6, maj6, etc).
There are also five-note arpeggios (min9, maj9, dom9), six-note arpeggios (min11, dom11, maj11) seven-notes arpeggios (maj13, min13, dom13) and other types as altered arpeggios (maj7#11, 7b13, 7#5).
Arpeggios are directly related to chords because these are chords whose notes are played one by one. Here is a non-exhaustive list of what you can find about arpeggios on this website:
and many more
Learning basic jazz patterns, essential licks or riffs and lines taken from improvised solos of the greatest jazz players can be very helpful to expand your jazz vocabulary.
This section offers some exercices with tab, standard notation, audio files and theory based on classic jazz lines transcibed from famous jazz musicians such as Wes Montgomery, Emily Remler, Kenny Burrell, George Benson, Miles Davis, Joe Pass, Pat Martino, John Scofield, Barney Kessel, Grant Green, Charlie Christian.
Some of these jazz lines are accompanied with YouTube videos.
and more...
The blog section provides a lot of jazz guitar lessons covering many topics grouped into several categories :
► CHORDS
And many more so go check them out !!!
Recent Blog Posts
A new video is available on the YouTube channel. This is a chord melody arrangement with synced shapes for jazz guitar of the standard All of Me by Simons & Marks.

Here are 15 basic jazz guitar chord positions that every beginning jazz guitar student must know. They are grouped into five families :

Major seventh chords (Maj7)
Minor seventh (m7)
Dominant 7th (7)
Half diminished / minor seventh flat fifth (m7b5)
Diminished 7th (dim7)

Jazz guitar chord voicings present a real challenge for beginners. Many guitarists think they need to know a lot of complicated chords with unpronounceable names to play jazz. But, the truth is that jazz guitar chords are based on easy shapes that you can move anywhere on the guitar neck.

These basic chords are divided into several distinct qualities (minor 7 , major 7 , dimininished 7 , half-diminished, dominant 7). They can be altered or enriched with extra tones as explains in this tutorial.

By studying the basic chord voicing shapes in this lesson you will understand how jazz chords are built, how to play them on guitar and how to apply them to any jazz standard or chord progression.

A new video has been published on the YouTube channel. It contains 10 exercises with chord shapes and numeral analysis about different types of variations of the jazz blues progression for jazz guitar rhythm.
Most Popular Blog Articles
Last edited: 03/02/2020