Welcome,
Welcome To Jazz Guitar Licks - Free And Paid Guitar Teaching Materials
Here you'll find a wealth of knowledge, lessons, and inspiration for guitarists of all levels. Whether you're a beginner eager to explore the captivating world of jazz or an experienced player looking to expand your improvisational skills, you've come to the right place.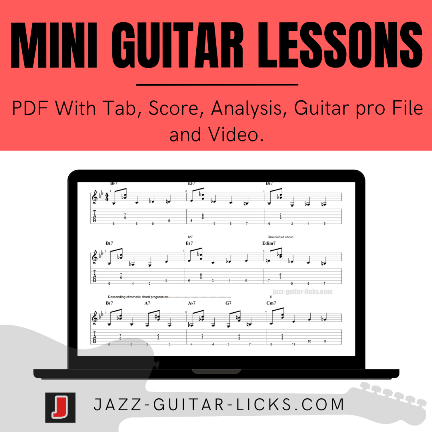 The blog area offers a lot of free learning resources for guitar players on a variety of subjects divided into many categories :
And many others...

Everything you ever wanted to know about jazz guitar chords is here. How they are built, how to play them on guitar .
These guitar lessons with tab, charts, shapes, diagrams and practice tips give useful information on triads (major, minor, diminished, augmented,etc.), tetrads (seventh and sixth chords) , extended chords (9th, 11th, 13th) , altered chords, drop 2, 3 and 2-4 voicings, etc.
and many more
These lessons cover the most essential scales and modes that any jazz guitarist should know, such as diatonic scales, melodic minor, harmonic minor, harmonic major, melodic minor, symmetric, pentatonic, bebop, and blues scales.
Each article includes charts, exercices, theoretical explanations and guitar diagrams with intervals.
MODES OF THE HARMONIC MINOR SCALE
MODES OF THE HARMONIC MAJOR SCALE
MODES OF THE MELODIC MINOR SCALE
MODES OF THE DOUBLE HARMONIC SCALE

Arpeggios are very used tools when improvising on chord changes because they easily outline the harmony of any jazz tune. They also have the advantage of being quite easy to learn and to play on guitar, that's the reason why beginners generally start to learn jazz improvisation using arpeggios.
Here is a non-exhaustive list of what you'll find on this website :
and many more

Learning basic jazz patterns, essential licks, riffs and lines taken from improvised solos of the greatest jazz players can be very helpful to expand your jazz vocabulary.
This section offers some exercices with tab, standard notation, audio files and theory based on classic jazz lines transcibed from famous jazz musicians such as Wes Montgomery, Emily Remler, Kenny Burrell, George Benson, Miles Davis, Joe Pass, Pat Martino, John Scofield, Barney Kessel, Grant Green, Charlie Christian.
and more...
A collection of free and paid printable music cheat sheets for teachers and students
and so on...
On the following pages, you will discover various decorative and instructive reference posters for guitarists, available in a variety of sizes and finishes.
MAJOR PENTATONIC SCALE AND MODES
and more...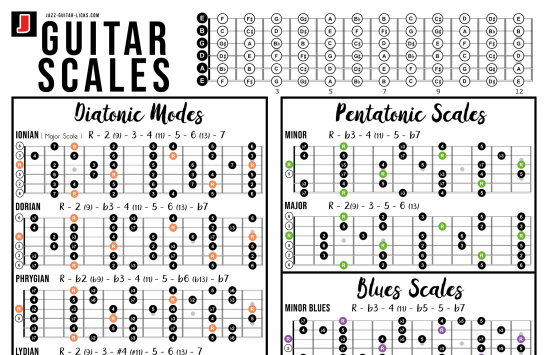 A collection of play-alongs and loops for musicians, producers and dj's by Backing Tracks Channel.
Last edited: 2023-09-19