Minor Seventh Arpeggios | Guitar Lesson with Patterns and Shapes
Minor Seventh Arpeggios | Guitar Lesson with Patterns and Shapes
How Are Built Minor Seventh Arpeggios?
Minor 7 arpeggios are built with four notes : Root (1), minor third (b3), Fifth (5) and minor seventh (b7). Arpeggios are chords whose notes are played one by one. As you can see in the example below the D minor seventh arpeggio has the same notes as the D minor seventh chord. It is built with a root (1), a minor third (b3), a perfect fifth (5) and a minor seventh (b7).
| | | | | |
| --- | --- | --- | --- | --- |
| D minor 7th arpeggio | D | F | A | C |
| D minor 7th chord | D | F | A | C |
| Formula | 1 | b3 | 5 | b7 |
Basic Application of m7 Arpeggios.
The basic application of an arpeggio is to target the chord tones by playing the corresponding arpeggio. For example, in a C major II-V-I sequence ( Dm7 | G7 | CM7 ) you can play D minor 7th arpeggio over the Dm7 chord, G dominant 7th arpeggio over G7 and a C major seventh arpeggio over the CM7. As you will have understood, the basic application of a m7 arpeggios is to play them over minor 7 chords.
How to Extend Minor 7 Arpeggios?
It's possible to add extensions as 9th, 11th and 13th to your minor 7 diatonic arpeggios. First, you have to keep in mind that the second (2) is the ninth (9), the fourth (4) is the eleventh (11) and the sixth (6) is the thirteenth (13). Let's take an example referring to the D Dorian scale (D-E-F-G-A-B-C). To add the ninth to your minor 7 arpeggio you have to play E, to add the eleventh just add G and to add the thirteenth you must play B, it is simple. You can apply this technique to any minor seventh arpeggio.
Minor Seventh Arpeggio - Guitar Neck Diagrams
How To Play Minor 7 Arpeggios on Guitar?
As you see in the four diagrams, minor seventh arpeggios are easy to play on guitar.
Since the root (the orange note) gives its name to the arpeggio, to play a Gm7 arpeggio using the first diagram (the one with the lowest root on the sixth string) you will need to place your index finger at the third string.
Minor 7 Arpeggio - Two Octave Shapes
The two following diagrams show how to play minor 7 arpeggios within the space of two octaves in order to cover the sixth strings on the guitar without shifting.
It is very important to play these arpeggio shapes in twelve keys all over the guitar neck. It is also recommended to experiment you own fingerings.
Related Minor Chord Shapes
How to Connect Arpeggios and Chords?
One of the most important trick to master in jazz is to associate arpeggios and chords. For this you will find three basic minor 7 chord shapes (Drop 2 voicings) and four exercises. The idea is to play the arpeggio and its chord and vice versa.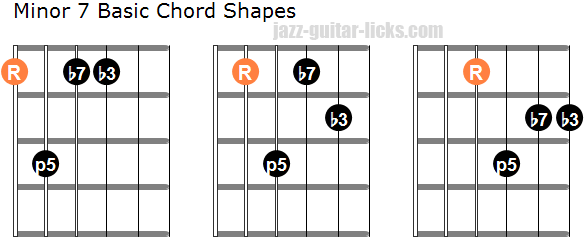 D Minor Seventh Arpeggio Over a II - V sequence
How to Make Use of A Minor 7 Arpeggio in a II V Progression?
Here is an easy jazz guitar line using a descending D minor seventh arpeggio. Chord progression is : Dm7 | G7, it's a II | V progression used in many jazz standards. This lick starts on the fifth of Dm7 (A) with a chromaticism (C, B, Bb, F). The minor seventh arpeggio begins on the second note of the triplet (A) and goes on over the G dominant 7th chord.
Last edited: 02/18/2019