Diminished Seventh Arpeggios (Dim7) | Guitar Lesson with Shapes, Fingerings and Licks
Diminished Seventh Arpeggios (Dim7) | Guitar Lesson with Shapes, Fingerings and Licks
What is a Diminished 7 Arpeggio?
A Diminished 7 arpeggio is built with seven notes, it can be considered a diminished triad with a diminished seventh. The interval formula is : tonic (1), minor third (b3), diminished fifth (b5), diminished seventh (bb7). Dim7 arpeggios are basically used to play over diminished 7 chords and dominant b9 chords as explained below.
| | | | | |
| --- | --- | --- | --- | --- |
| Cdim7 arpeggio | C | Eb | Gb | A |
| Formula | 1 | b3 | b5 | bb7 |
Guitar Arpeggios - Lesson With Shapes and Formulas
Diminished 7th Arpeggio | Guitar Shapes
How to Play Diminished Arpeggios On Guitar?
Here are four guitar diagrams that will help you to play diminished 7 arpeggios on guitar. The first shape has tonic (1) on the sixth and fourth string.
The second graphic has tonic on the fifth and third string.
The tonic of the third diagrams is on the fourth and second string, whereas the fourth shape has tonic on the third and first string.
It is advisable to play these shapes starting from the tonic notes, ascending and descending.
Once you are comfortable with the fingerings, try to start from the other tones (b3, b5 and bb7).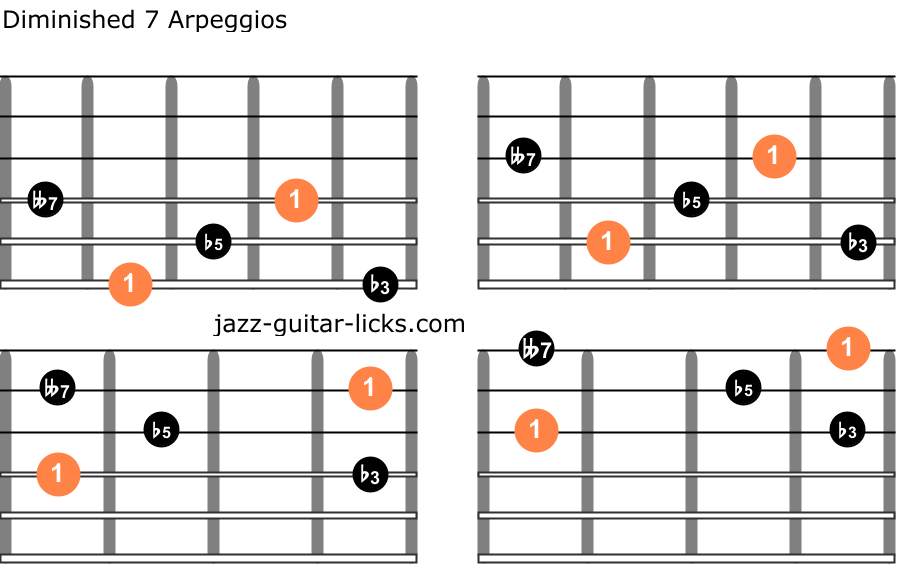 Diminished 7 Arpeggios - Two Octave Shapes
The next two shapes show you how the diminished 7 arpeggios looks like on the guitar fretboard within the space of two octaves.
Don't hesitate to play the corresponding chord is a nice way to bring chords and arpeggios together.

Symmetry of Diminished 7 Arpeggios
A diminished 7th arpeggio is built with minor third intervals, it is symmetrical. A minor third interval is made up of 3 semitones (3 frets on a guitar). It means that you can move any diminished 7th arpeggio positions up or down three frets and you will still find the same notes.
You can play four diminished 7th arpeggios over a G7b9 chord :
Ab diminished 7th arpeggio (from the b9 of G7b9).
B diminished 7th arpeggio (from the 3rd).
D diminished 7th arpeggio (from the 5th).
F diminished 7th arpeggio (from the b7).

Related Diminished Scales
We can find diminished seventh arpeggios into four diminished scales. These scales are the whole-half diminished (aka fully diminished scale), the half-whole diminished (aka dominant diminished), the Locrian bb7 scale and the super Locrian bb7 scales.
How to Use Dim7 Arpeggios?
The basic application of diminished 7th arpeggios is to play them over diminished 7th chords because they have the same notes. For example, playing a G°7 arpeggio over a G°7 chord. However, dim7 chords are rarely used.
One of the most common application of dim7 arpeggios is to play them over dominant b9 chords. Indeed, the notes of a diminished 7th arpeggio are identical to the notes of a dominant b9 chord a semitone lower.
Example :
G7b9 chord is built with : G (root) - B (third) - D (fifth) - F (minor seventh) - Ab (flat ninth).
| | | | | | |
| --- | --- | --- | --- | --- | --- |
| 7b9 Formula | R | 3 | 5 | b7 | b9 |
| G7b9 | G | B | D | F | Ab |
Ab diminished 7th arpeggio is made up of : Ab (Root) - B (minor third) - D (diminished fifth) - F (diminished seventh).
| | | | | |
| --- | --- | --- | --- | --- |
| Dim7 Formula | R | b3 | b5 | bb7 |
| Ab dim7 | Ab | B | D | F |
Minor II-V-I Lick
Here is a minor II-V-I sequence using a B diminished 7th arpeggio. This is a common chord progression very used in jazz music. In this line the B diminished arpeggio starts on the third of G7b9.
Bar one : D descending Locrian mode (D-Eb-F-G-Ab-Bb-C) with a passing tone (A).
Bar two : B diminished 7th arpeggio (B-D-F-Ab) and chromatic line (F-F#-G)
Bar three : Fifth and b3 of Cm.

Last edited: 2022-02-12