Dominant 7th Arpeggios (Dom 7) | Guitar Lesson with Patterns and Shapes
Dominant 7th Arpeggios (Dom 7) | Guitar Lesson with Patterns and Shapes
What Are Dominant Seventh Arpeggios?
Dominant seventh arpeggios are made of four notes that are : Tonic (1), major third (3), fifth (5) and minor seventh (b7). They can be seen as dominant 7 chords whose notes are played one after the other.
| | | | | |
| --- | --- | --- | --- | --- |
| G7 chord | G | B | D | F |
| G7 arpeggio | G | B | D | F |
| Formula | 1 | 3 | 5 | b7 |
Dominant 7 Arpeggios - Two Octave Shapes
The next two diagrams show how you can play dom7 arpeggios in position within the space of two octaves.
Once you are comfortable with the one octave shapes previously seen, you can try to play these shapes starting from the third, the fifth and the seventh.
Playing the corresponding chord after or before these arpeggios is a good way to bring them together.

Related Scales
Dominant 7 arpeggio can be found into five modes taken from the four most known families of scale that are : Major scale, harmonic minor, harmonic major and melodic major scales. As shown in the guitar diagrams, the five modes are :
Mixolydian
Phrygian
Mixolydian b2
Lydian dominant
Mixolydian b13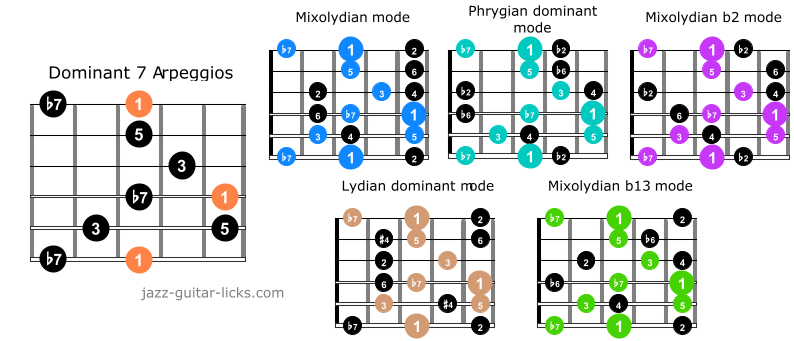 Extended Dom7 Arpeggios
Diatonic dom7 arpeggios can be extended with the 9, 11 or 13th thus giving four superimposed arpeggios. Exemple with G7
G7 (1, 3, 5, 7).
Bm7b5 (1, b3, b5, b7) starting on the third of G.
Dm7 (1, b3, 5, b7) starting on the 5th of G.
Fmaj7 (1, 3, 5, 7) starting on the b7 of G.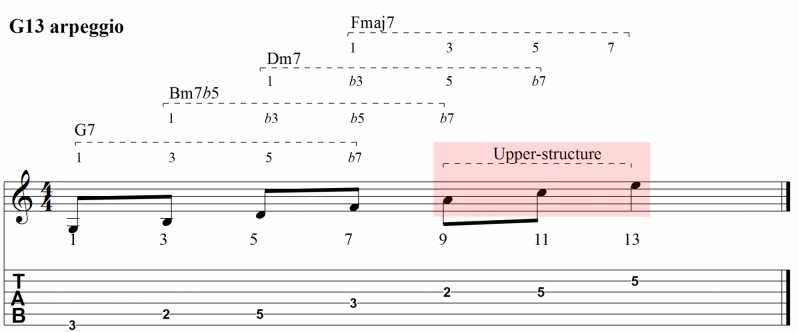 II-V Progression and Dominant 7th Arpeggio
The basic use of an arpeggio is to play it over the corresponding chord. Let's take an example with a C major II-V-I sequence : The chord progression will be Dm7 | G7 | CM7 | % |. It means that we will be playing a D minor 7th arpeggio over the Dm7 chord, a G dominant 7th arpeggio over the G7 chord and a C major seventh arpeggio over the CM7.
Here is a short II | V jazz guitar line using a G dominant 7th arpeggio.
Measure 1 : D Dorian mode starting on the root with a passing tone (A#) between the fifth of Dm7 (A) and the major third of G7 (B).
Measure 2 : G dominant 7th arpeggio starting on the major third (B) with another passing tone (A#) to approach the major third.

Last edited: 2023-12-02