Jazz Blues Arpeggio Study (Bb) Part 2 - Mini Guitar Lesson 05 (ML 05)
Jazz Blues Arpeggio Study (Bb) Part 2 - Mini Guitar Lesson 05 (ML 05)
8 USD (or more) - Secure payment by Gumroad / Paypal
This mini guitar lesson is the second part of the serie covering arpeggio practice over a basic Bb jazz blues progression.
You will learn how to connect the main types of arpeggios (dom7, min7, dom9 and dim7) following a progression found in many jazz bues tunes.
Package Details
1 printable PDF in high resolution containing tab/score notation and a brief analysis.
1 Jazz Swing Backing track (mp3).
1 Short Video.
1 Guitar pro file.
You can listen to it in the player below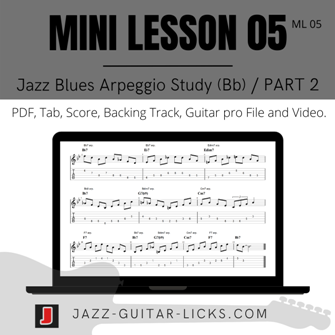 Last edited: 2022-03-29