Arpeggio Practice - Mini Lesson 03 (ML 03)
Arpeggio Practice - Mini Lesson 03 (ML 03)
8 USD (or more) - Secure payment by Gumroad / Paypal
This short lesson provides some easy jazz lines to practice diatonic arpeggios on guitar over a F major chord progression (2 x 8 bars) : Fmaj7 | Gm7 | Am7 | Bbmaj7 |.
What's In The Package?
A printable PDF file (high resolution) with tab, score and analysis.
A guitar pro file.
A short HD video (the study is played twice at normal and slow speed).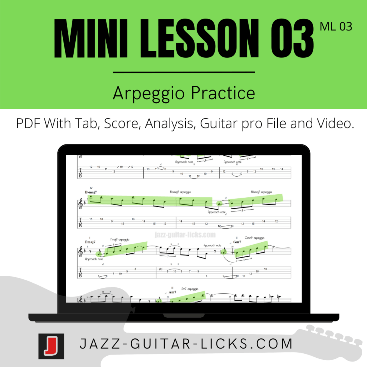 You'll find a mini guitar lesson about walking bass lines and chords containing a PDF with tab, score analysis, shapes, a video and a guitar pro file.

In this mini jazz guitar lesson you will learn how to play easy and cool jazz lines over basic chord changes found in jazz. Pdf, tab and video included.

With this short lesson you will learn how to play and connect basic guitar arpeggios over a diatonic chord progression.
Last edited: 2021-12-14