Arpeggio Superimposition For Guitar - Mini Lesson 07 (ML 07)
Arpeggio Superimposition For Guitar - Mini Lesson 07 (ML 07)
In this mini lesson you will learn how to play arpeggios built from the 3rd degree of each chord of a basic diatonic progression in F. The aim being to create a 9th sound for each chord.
Package Details
1 printable PDF in high resolution containing tab/score notation.
1 Jazz Backing track (mp3).
1 Short Video.
1 Guitar pro file.
You can listen to the exercise in the player below.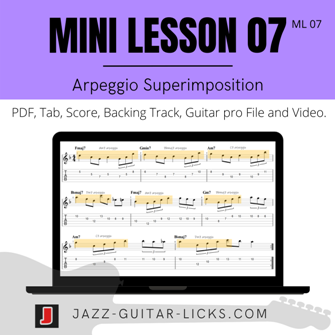 Last edited: 2022-07-27