Armando's Rumba - Guitar Chords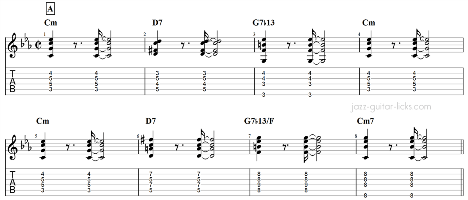 Armando's Rumba - Guitar Chords
This lesson provides a chord study with tab of the Latin jazz tune Armando's rumba by Chick Corea based on the Latin Real Book version in C minor. Here below you'll find guitar tabs corresponding to the four main parts of the tune (A-B-C-D).
The chords used in this arrangement are mostly seventh chords as min7, maj7, dim7 and dom7 (drop 2, drop 3 and rootless voicings) including basic triads (min, aug) and altered dominant chords (7#9, 7b13).
A Part
This part implies five chords that are Cm, Cm7, D7, G7b13 and G7b13/F covering eight bars. The rhythm is designed to be played with the fingers, also it has been intentionally simplified, so don't hesitate to create you own.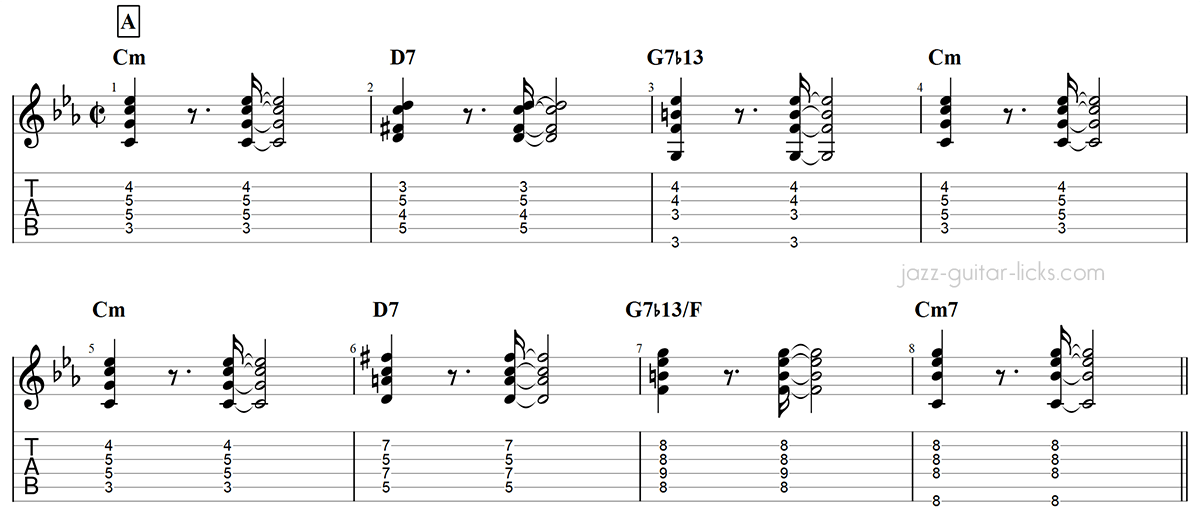 B Part
The B part is composed of 12 bars, it includes eleven chords namely : C7, Fm, D7/F#, Gm, Abdim7, Adim7, Eb/Bb (over two bars), Bb7sus(b9), E7#9, Eb and Gaug. Notice that the repeat bar takes you back to the beginning of the A part previously discussed.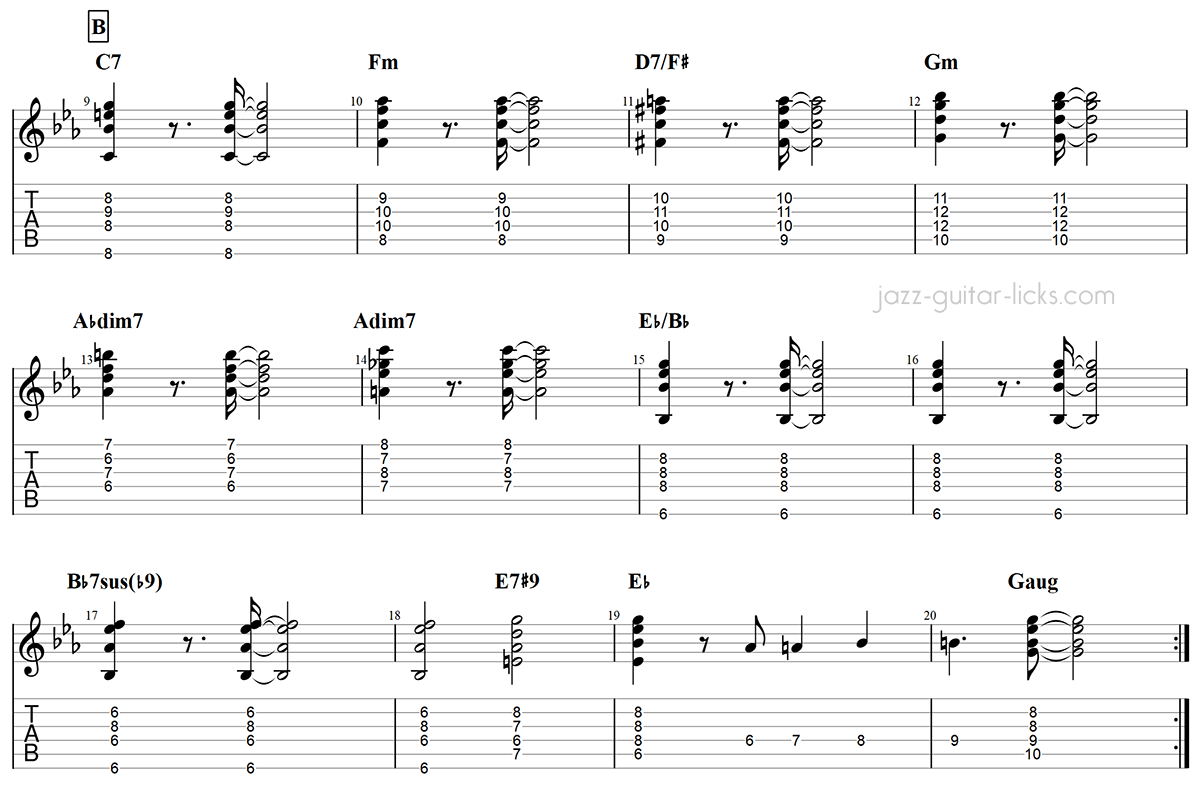 C and D Parts
These two parts are actually the solo part, the idea is to connect the chords with short melodic lines as a bass player or a pianist would do. The C part features eight bars and three chords that are actually the same as the A part but with Gaug in place of G7b13. The chord progression of the D part is the same as the B part but with some different voicings and chord positions. Once again, try to create your own lines and rhythm parts.
Global Audio Rendition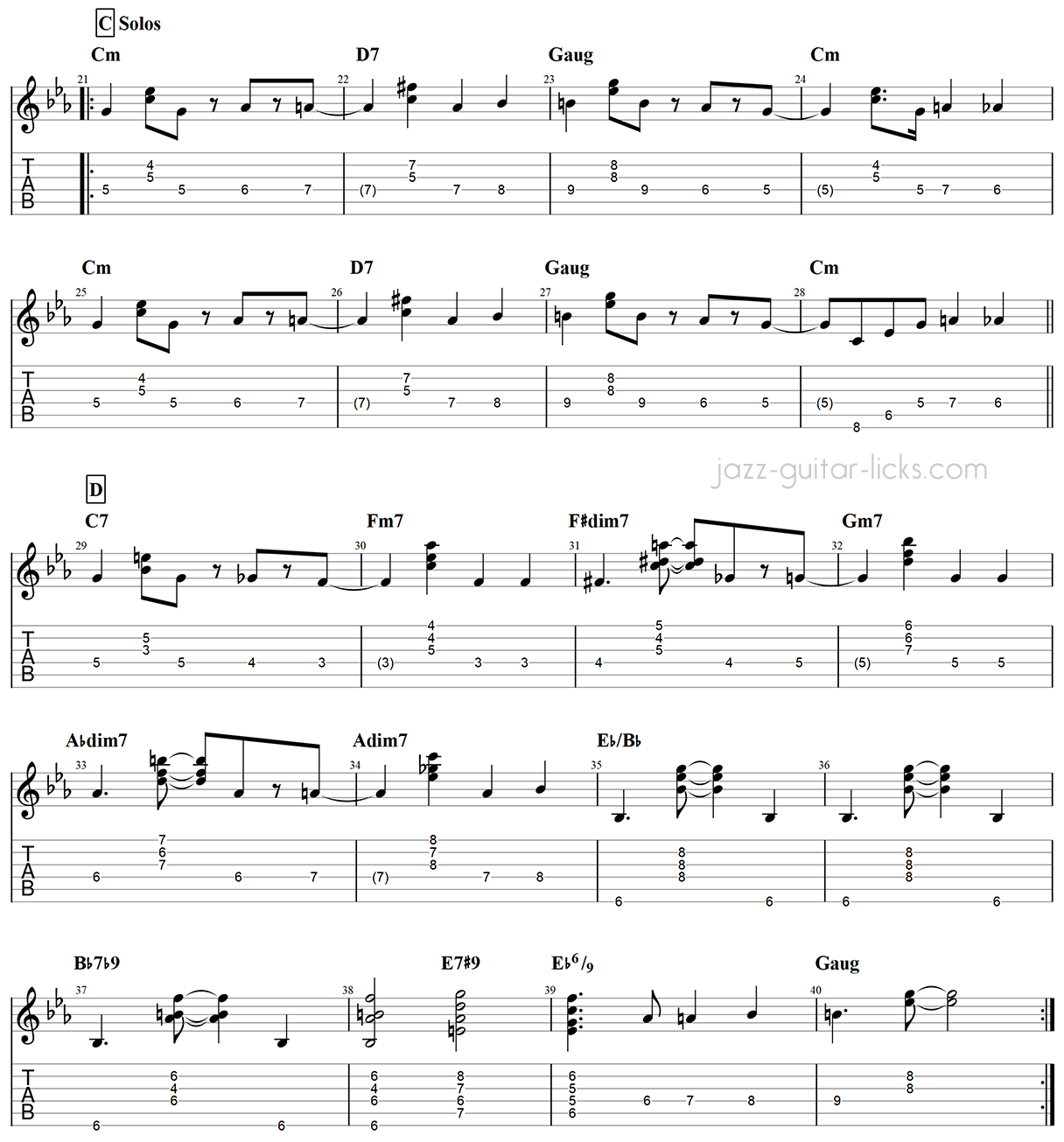 guitar chords comping harmony voicings latin jazz chick corea accompaniment drop 2 drop 3 triads rootless chords tabs shapes