How to Use 7b5 Chords? Guitar Lesson With Shapes and Tabs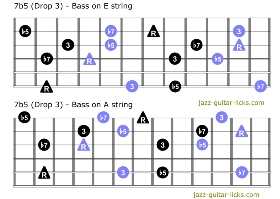 How to Use 7b5 Chords? Guitar Lesson With Shapes and Tabs
Altered chords are a very important part of jazz language, they are built by altering with a flat or a sharp one or more notes of a diatonic chord. They are very useful to bring a little bit of tension to any jazz chord progression.
This lesson focusses on dominant seventh flat fifth chords (7b5), that are dominant seventh chords with a lowered fifth, given the formula : root (R), third (3), flat fifth (b5) and minor seventh (b7).
Dominant 7 and 7b5 Comparison
As explained above, 7b5 chords are dominant 7 chords where the 5th is lowered by a semitone providing the formula R - 3 - b5 - b7. Here are some basic chord shapes showing how to turn dominant seventh chords into dominant 7 flat fifth (7b5). For more chord positions don't hesitate to take a look at this Guitar Chord Dictionary.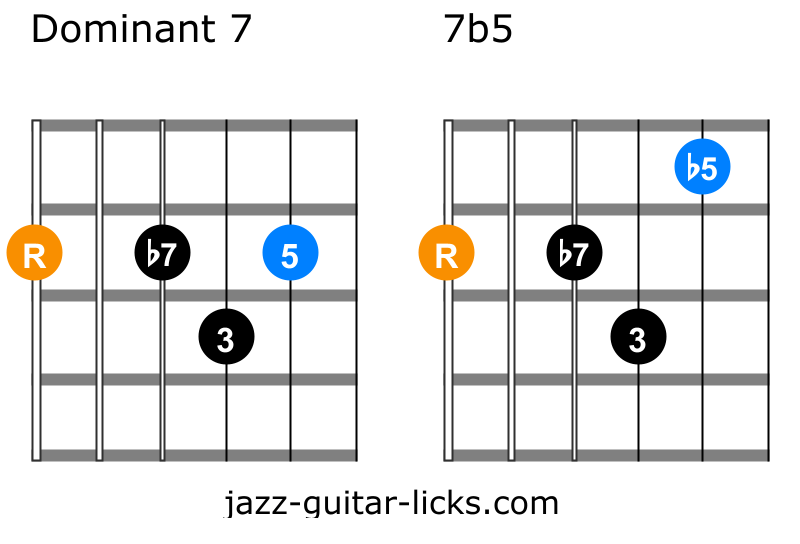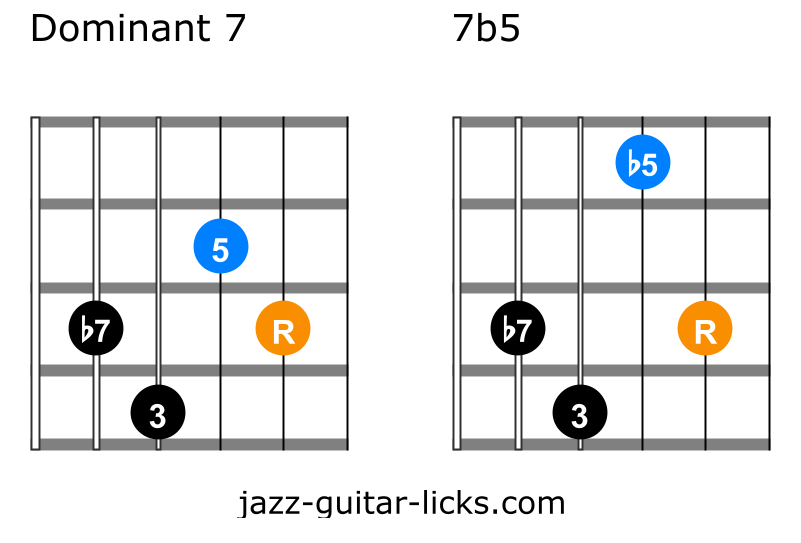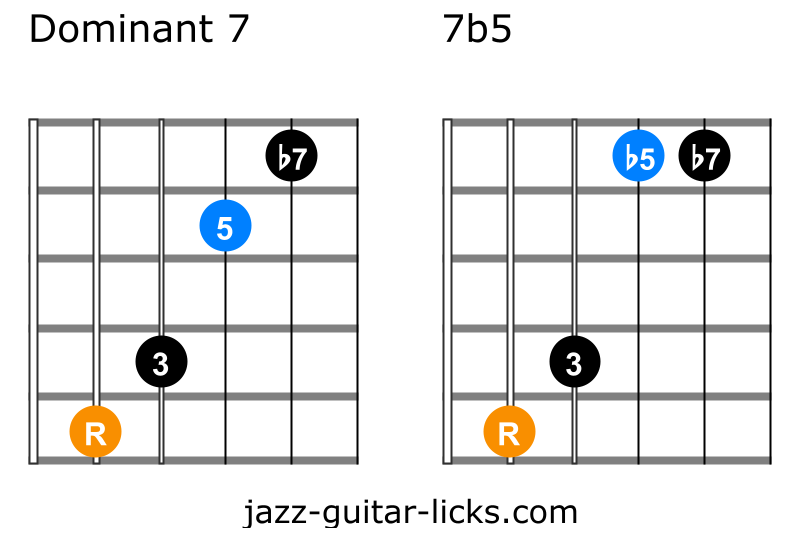 Inverted Chord Shapes / Symmetry
One significant point with 7b5 chords is that they are symmetrical, indeed there are two chords in one position. It means that each note is separated by a tritone, an equal division of the octave made of 6 semitones (or 3 whole tones).
As shown in the diagrams below, there is one position for two voicings. Let's take the first diagram as an example, the one with drop 2 dominant 7b5 chord with the bass on 6th string. As you can see the first voicing shape with the black dots (R - b5 - b7 - 3) is the same as the other one a tritone away (b5 - R - 3 - b7). The two other blue shapes, 3 - b7 - R - b5 and b7 - 3 - b5 - R, are also played the same way. The principle is the same for any 7b5 chord position.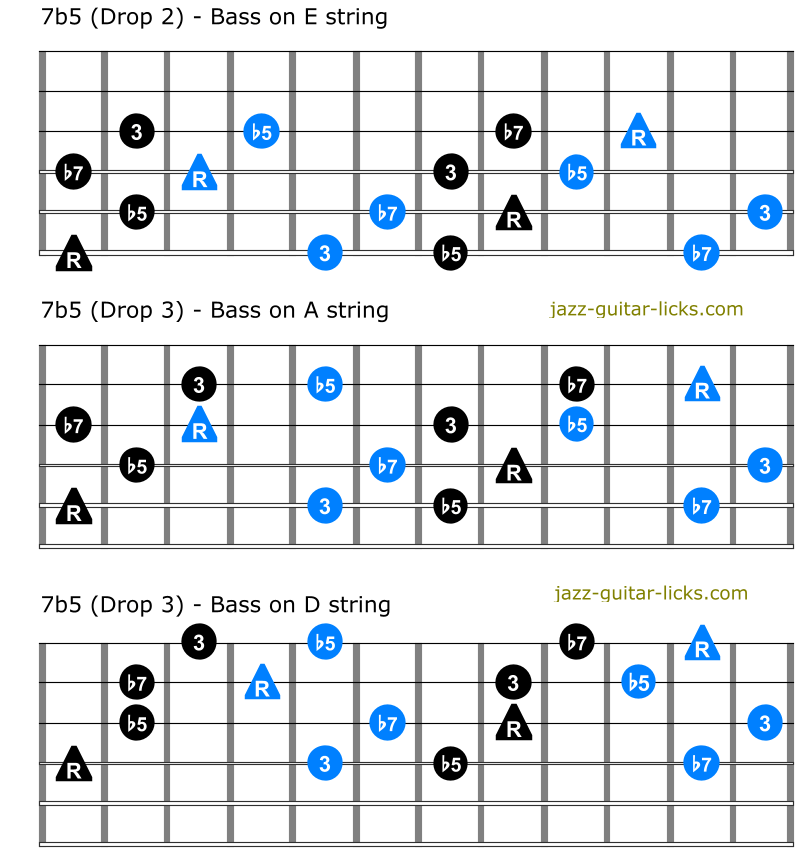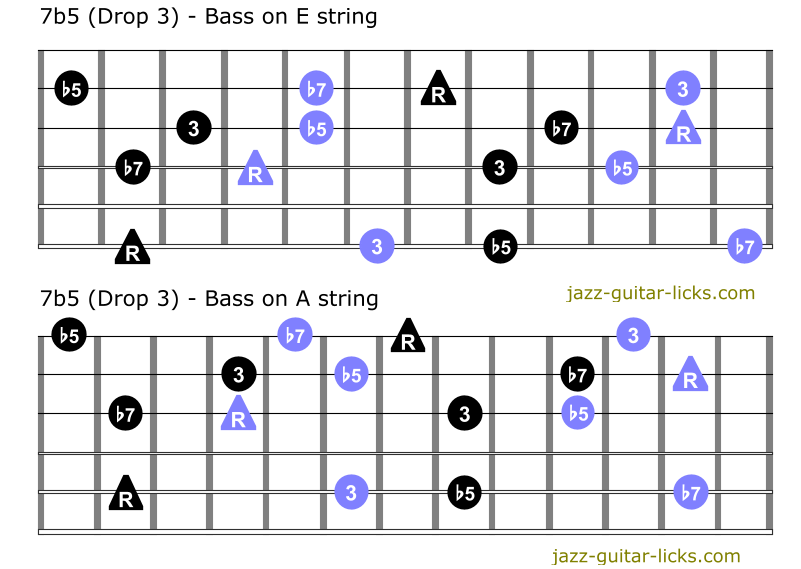 Exercises - 2 5 1 Progressions
The basic use of 7b5 is to substitute them for the V7 chord of a II V I sequence for example, in order to create a smooth transition between the chords. Here are some tabs to illustrate this.
Exercise 1 : In the key of Bb : Cm7 (ii) | F7 (V) | Bbmaj7 (I) becomes : Cm7 | B7b5 | Bbmaj7.
Exercise 2 : Key of D : Em7 (ii) | A7 (V) | Dmaj7 (I) becomes : Em7 | Eb7(b5) | Dmaj7.
Exercise 3 : Key of C : Dm7 (ii) | G7 (V) | Cmaj7 (I) becomes : Dm9 | Db7(b5) | Cmaj7.
TIP : You can try to replace basic dominant 7 chords by 7b5 chords in jazz standards or songs you are familiar with.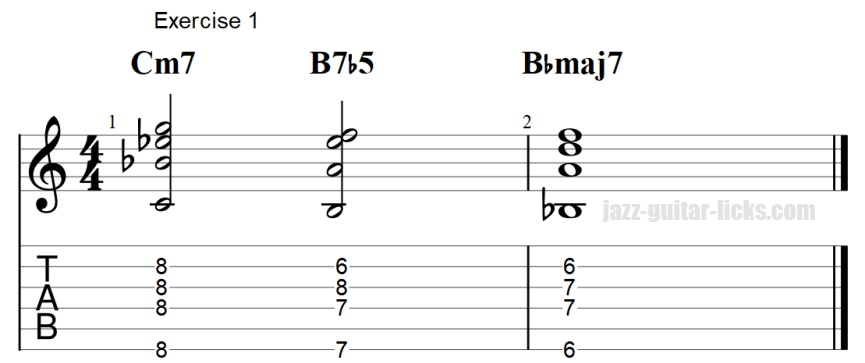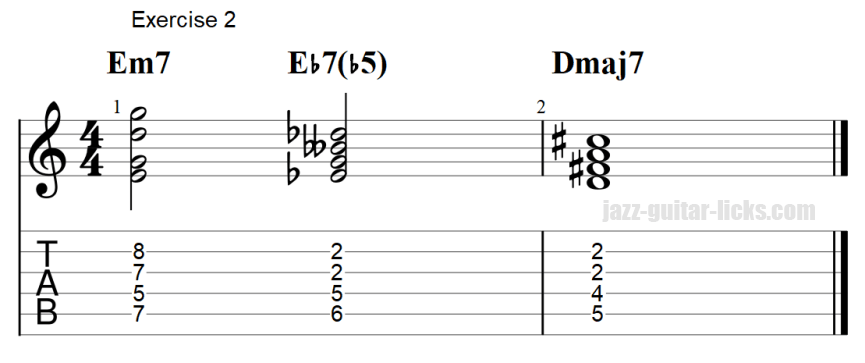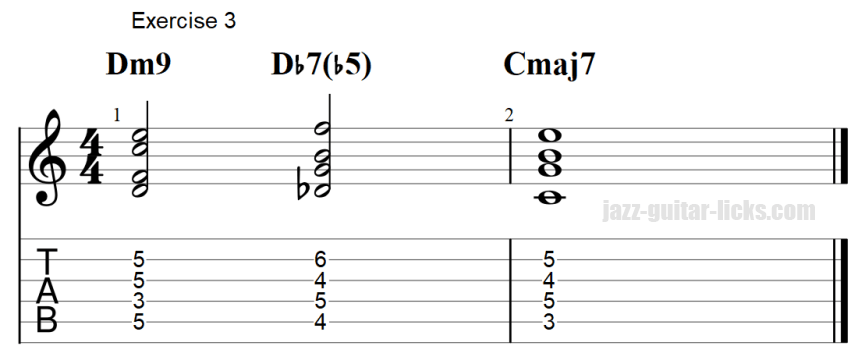 Chord Melody Exercise
This short chord-melody exercise in Fmaj illustrates how to use 7b5 chords to make the link with non-altered chords.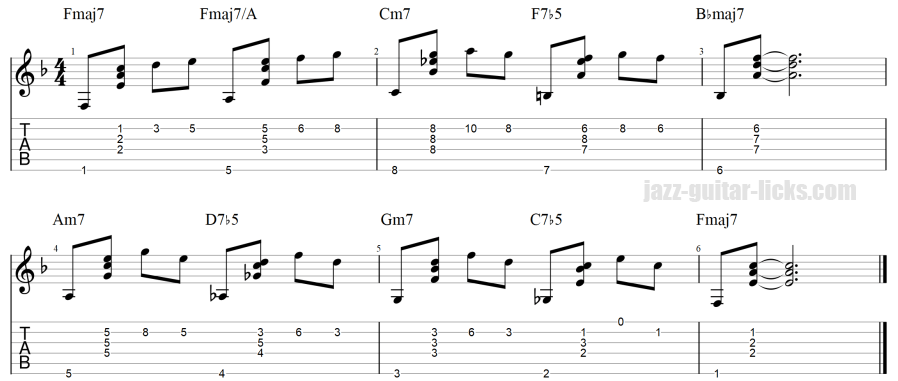 chords voicings 7b5 Altered chords chord shapes chord diagrams harmony