25 Altered Dominant Guitar Chords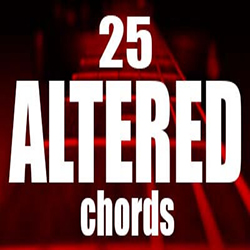 25 Altered Dominant Guitar Chords
What's An Altered Dominant Chord?
Altered dominant chords are used to bring tension and an outside flavor to jazz chord progressions. They generally resolved to an inside chord as the I or a substitute as iii or vi.
Altered chords have one or more notes lowered or raised by a half-step, in other words they contain one or more alterations. These alterations can be b9,#9, b5 (#11) and b13 (#5).
They are generally used by jazz musicians, composers and arrangers as substitutions for diatonic chords for adding dissonance and spicing up the harmony.
chords voicings Altered chords harmony