What's An Altered Chord? Guitar Lesson With Shapes and Theory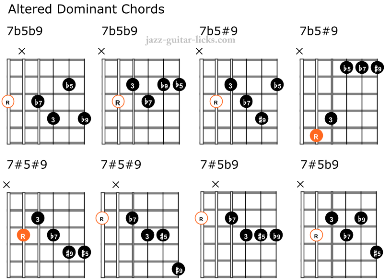 What's An Altered Chord? Guitar Lesson With Shapes and Theory
An altered chord is a chord containing one (or several) altered notes that don't belong to the diatonic scale. These notes are the b5 (flat fifth), #5 (sharp fifth), b9 (flat ninth), #9 (sharp ninth). In other words, altered chords are diatonic chords where the fifth and/or the ninth have been lowered or raised by one semitone.
In this guitar lesson we will see that they can be grouped into three disctinct families that are (major, minor and dominant) and also how to play them on guitar.
Altered Dominant Chords
Altered dominant chords are by far the most used because they contain the most alterations and can bring a unique sound, a bit of tension and dissonance to your chord progressions. They are also great substitutes for any basic dominant 7 chord. Among the possibilities of alterations we can cite:
They are sometimes referred to as 7alt chords, theoretically they must contains both an altered fifth and ninth giving four possibilities:
However altered chords with a unique alteration can also be written 7alt:
Altered Dominant Guitar Chord Shapes (One Alteration)
Here are some basic altered dominant chord shapes with a single alteration representing the first family. The first three shapes (7b5) are dominant 7 chords where the fifth is lowered by a semitone. The next three voicings raise the fifth a half step to create a 7#5 chord.
The three following positions show a dominant ninth chord where the ninth has been lowered with a half step (b9), then the last three diagrams show the result of a dominant 9 chord where the ninth has been raised a half-step (7#9).
The first tab below is an example of use of 7b5 chords within a common jazz progression, you can see them as being the V7alt of the iim7. The second example is a major II V I exercise taken from the PDF Method "50 II V I Chord Voicings" that includes a Db7#5 chord, substitution for G7.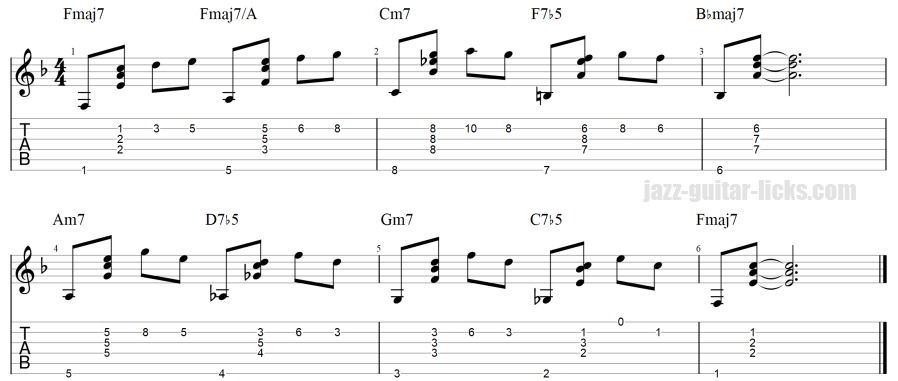 Altered Dominant Guitar Chord Shapes (Two Altered Notes)
The following guitar diagrams show altered dominant chords with two alterations, thus providing 7b5b9, 7b5#9, 7#5#9 and 7#5b9 voicing shapes. When played alone these chords may seem unpleasant but when used in the right situation they can help produce smooth transitions between two chords as illustrates in the minor 2 5 1 sequence below.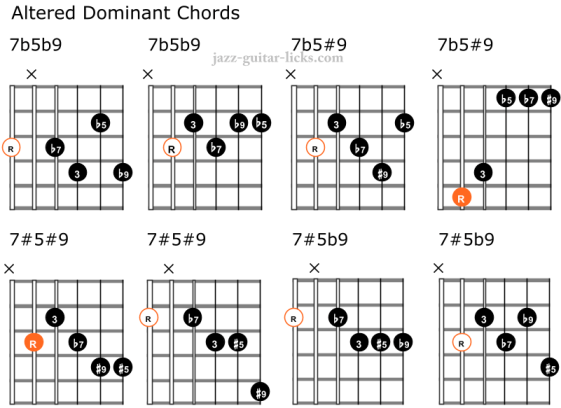 Altered Dominant Guitar Chord Shapes (Perfect Fifth and Altered Extensions)
This third family is about altered 7 chords with perfect fifth and altered extensions (#9, b9, #11 and b13) giving a lot of possibilities of chord voicings, here are some guitar shapes (try your own) including two fifthless positions very appreciated by jazz guitarists.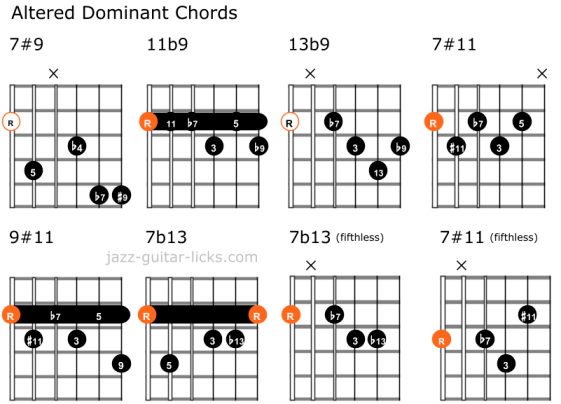 Altered Dominant Guitar Chord Shapes (Altered Fifth and Altered Extensions)
Now the fourth family is to combine altered fifths and altered extensions, here are some voicing shapes (7b5b13, 7b5#9, 7b5b9), once again try to find your own positions maybe using this lesson about intervals on guitar.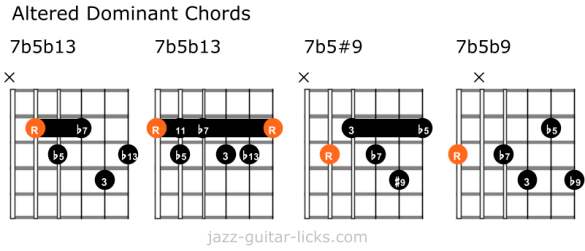 Altered Major Chords
Major 7 chords can contain an altered fifth (#5) making them augmented major 7 chords. One possibility of altered major chord is to raise the eleventh with a half-step, thus giving a major 7#11 chord. Notice that the sharp eleventh is not really considered an alteration but an extended note, however it is relevant to include it in this lesson.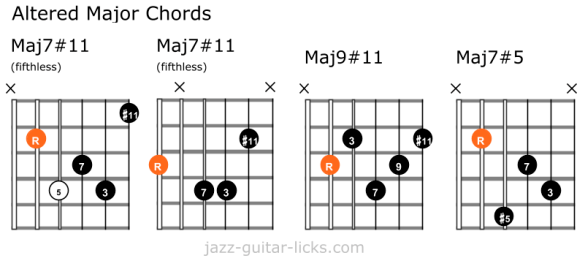 Altered Minor Chords
Some teachers say that minor chords can't be altered, indeed when lowering the fifth of a minor 7 chord you get a half-diminished chord (1-b3-b5-b7), so it's not considered an altered chord but a minor 7b5. However in some cases, it is can be interested to raise the fifth to get a minor 7#5 chord.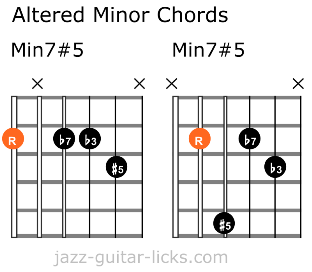 chords voicings Altered chords altered dominant chords altered major chords chord shapes chord diagrams jazz guitar chord positions