9th Guitar Chords (9) | Voicings with Shapes and Theory
9th Guitar Chords (9) | Voicings with Shapes and Theory
What's a Dominant 9th Chord ?
Learning dominant 9th (or simply 9th) guitar chords is a logical continuation to dominant seventh chord study. Theoretically ninth chords are built with 5 notes called root (1), major third (3), perfect fifth (5), minor seventh (b7) and ninth (9).
We will see that it is quite unusual to play these five notes together on the guitar. As it is shown in the chart below, a dominant 9th chord is simply a dominant seventh chord with a ninth added. They should not be confused with major 9 and add9 chords as explained in this article.
| | | | | | |
| --- | --- | --- | --- | --- | --- |
| Dominant seventh chord | 1 | 3 | 5 | b7 | |
| Dominant 9th chord | 1 | 3 | 5 | b7 | 9 |
You can substitute any dominant 7th chord by a dominant 9th (9) chord. This way it adds a little more interest to the sound indeed, 9th chords can helpcreate a more sophisticated and cool sound to your guitar playing. These are great chords for blues, funk and jazz. They naturally occur on chord V in the major scale and is the only type with both a 7th and 9th.
Notation symbols
Just as the dominant 7th chords which are marked with a 7, dominant 9th chords are simply marked with a 9. Example with C9.
Basic 9th Guitar Chord Shapes
Before starting to learn drop 2 dominant 9th chords and their inversions, here are three basic guitar positions whith roots in the bass to familiarize yourself with these chords. Please note that the first and third diagrams have no fifth. You can eventually omit the fifth of the second diagram if you don't want to bar with your third or fourth finger.
Leaving The Root Out
When you play complex guitar chords, it's not always possible or practical to include all chord tones. So, you often leave some chord tones out.
When building 9th chords, you just need to take a basic 7th position and replace the root with the 9th, which is found a tone (two frets) higher on the guitar fretboard. This is what happens with these two diagrams that show the relation between a dominant 7th and dominant 9th chord.
9th Guitar Chord Shapes (Drop 2 - Rootless)
The following guitar diagrams are based on dominant seventh drop 2 voicings but without root notes. You can take a look at this lesson to understand how drop 2 chords are built.
| | | | | |
| --- | --- | --- | --- | --- |
| Dominant 9th Root position | 9 | 5 | b7 | 3 |
| 1st inversion | 3 | b7 | 9 | 5 |
| 2nd inversion | 5 | 9 | 3 | b7 |
| 3rd inversion | b7 | 3 | 5 | 9 |
All the guitar diagrams presented below omit the root (R). However, it is important to locate them even if it they are not played. This is why root notes are represented by a circle in the diagrams. This will allow you to find more easily the chord name.
The green shapes is the first voicing based pn the root position. The 9th is in the bass.
The blues shape is the second voicing with the 3rd in the bass.
The pink position has the fifth in the bass.
The green shape has the minor seventh in the bass.
Similarities With Half-diminished And Minor 6 Chord Shapes
As shown in the guitar neck diagrams below, rootless dominant 9 chord can also be considered as minor 6 (min6) and half-diminished (m7b5) chords. The positions are the same, only the intervals that make up the chords change.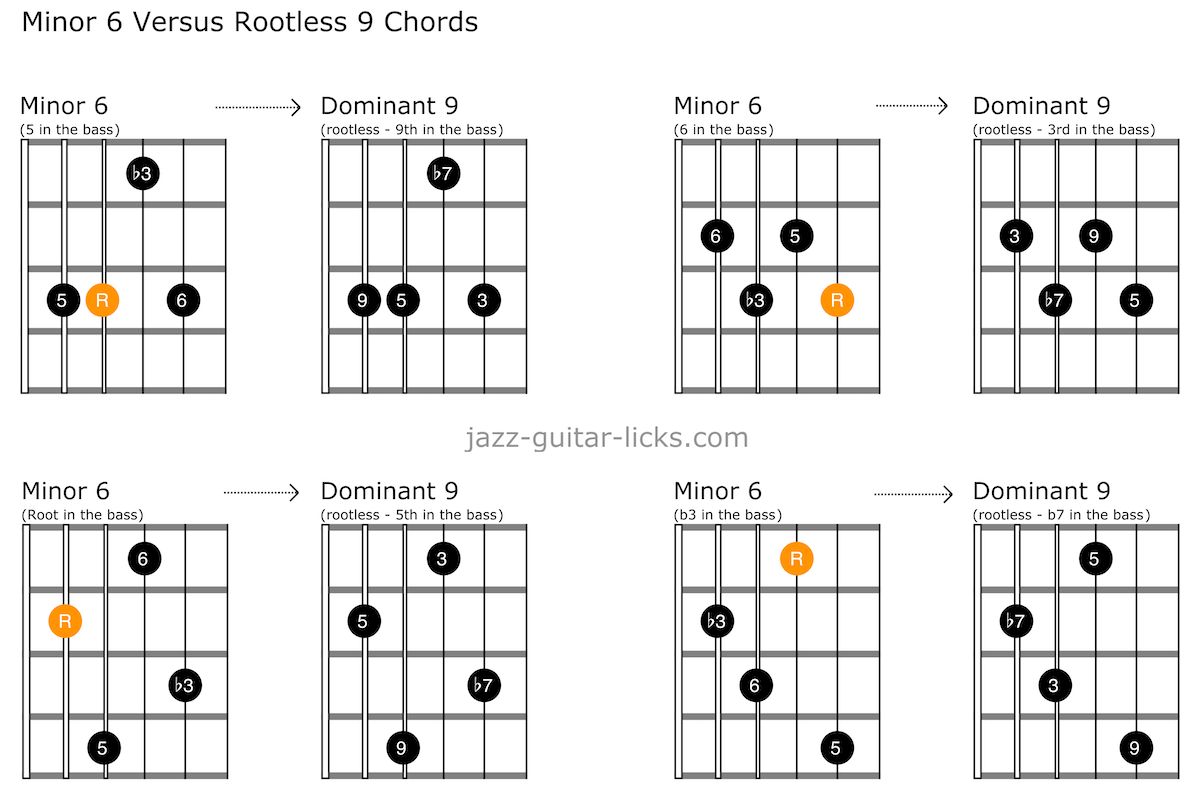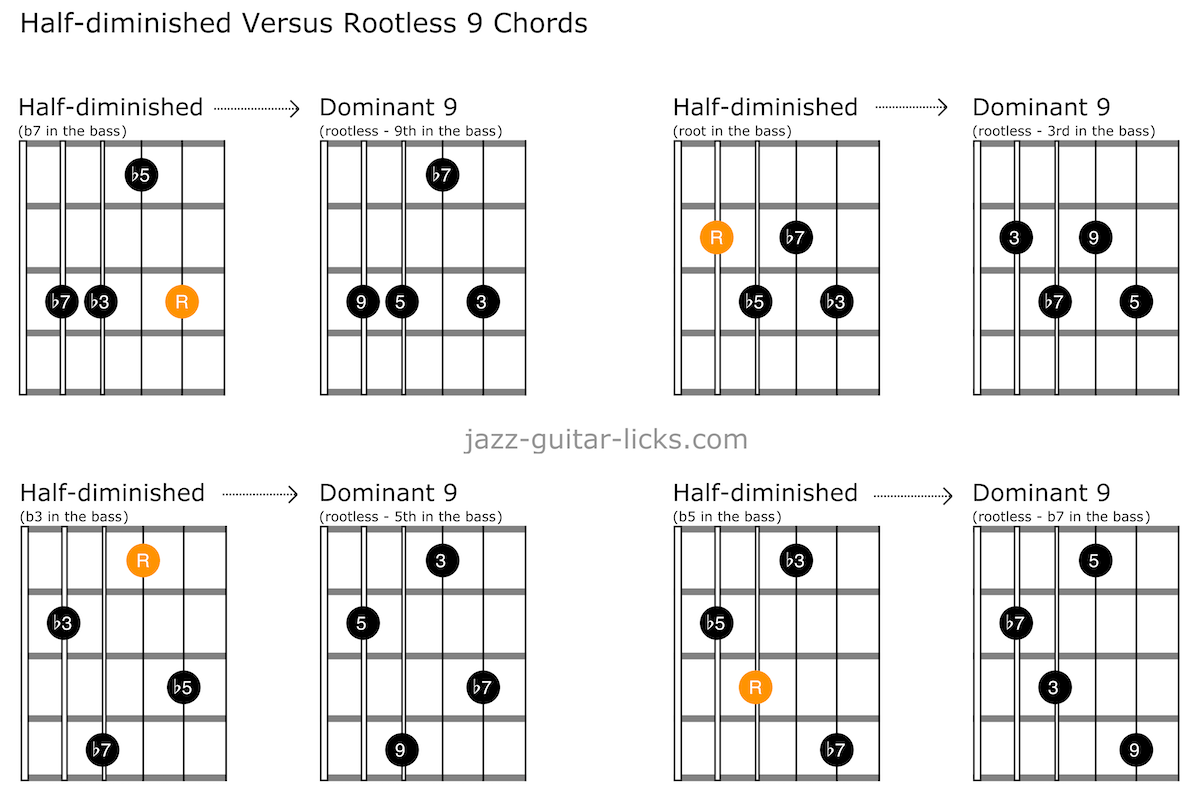 Last edited: 2023-02-17