Jazz Guitar Phrases Over Common Changes - II V I and I VI II V - PDF With Tab, Shapes and Video (part 1)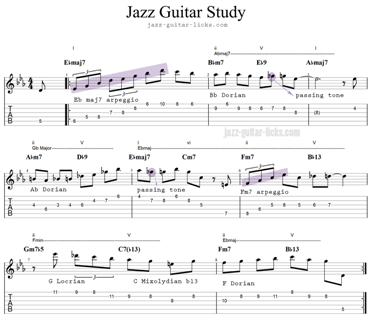 Jazz Guitar Phrases Over Common Changes - II V I and I VI II V - PDF With Tab, Shapes and Video (part 1)
This short jazz guitar study with tab, score and chord charts provides some easy jazz lines to apply over three common chord progressions found in jazz. These licks will help you better understand what scales and modes can be used over basic chord changes. You'll find a link to the free PDF at the end of this lesson.
Chord Progression & Analysis
This is an 8-bar chord progression containing three important chord changes that are :
Major 2 5 1 (iim7 | V7 | Imaj7).
Minor 2 5 (iim7b5 | V7).
1 6 2 5 also known as "turnaround" (Imaj7 | vim7 | iim7 | V7).
Here is the chord progression analysed:
It starts with Ebmaj7 (I) followed by a ii V I sequence (bars 2 and 3) in Abmaj7 (Bbm7 | Eb9 | Abmaj7). In bar 4 we have a short ii V (Abm7 | Db9) in Gb. The measures 5 and 6 actually include a I vi ii V progression in Ebmaj made of Ebmaj7 (I), Cm7 (vi), Fm7 (ii) and Bb13 (V). In bar 7 you can hear a short minor II V sequence made of Gm7b5 and C7b13. This study ends with two chords, Fm7 and Bb13 respectively ii and V of Ebmaj7.

Licks Analysis
Now let's talk about the scales, modes and arpeggios used in this exercise:
Bar 1 : Ebmaj7 arpeggio over Ebmaj7, nothing more obvious. This arpeggio is approached chromatically from below (from D to Eb).
Bar 2 and 3: Bb Dorian (second mode of Abmaj7) with a passing tone between F and G. Can also be seen as Eb Mixolydian with a blue note between the second (F) and the major third (G).
Bar 4 : Ab Dorian (or Db Mixolydian).
Bar 5 and 6 : Notes from Ebmaj with extra notes (Gb and Db). Notice the Fm7 arpeggio (F-A-C-E) over Fm7.
Bar 7: G Locrian over Gm7b5 and C Mixolydian b13 over C7b13.
Bar 8 : F Dorian (or Bb Mixolydian) to finish.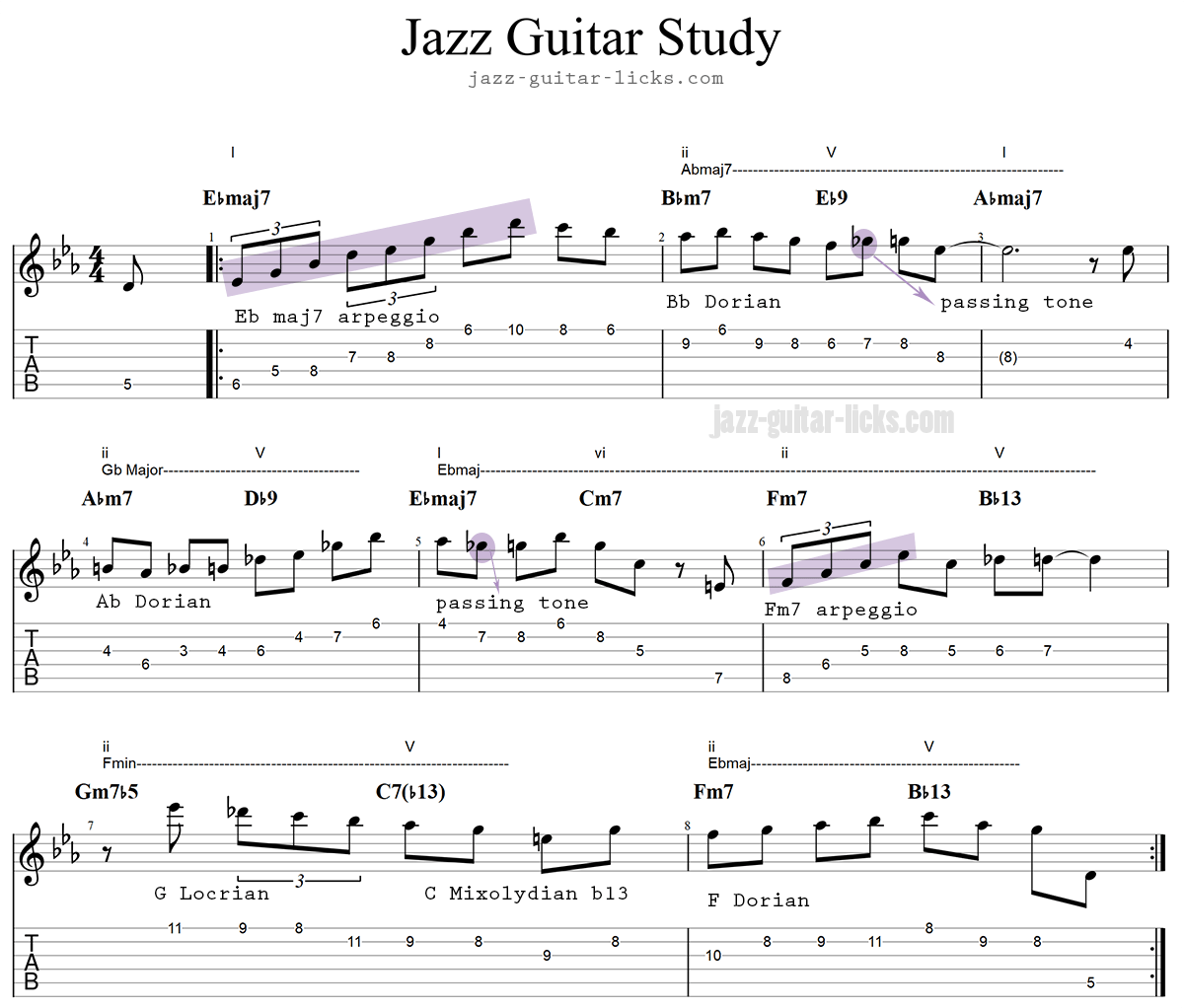 jazz guitar lesson chords licks guitar scales jazz guitar PDF tabs II V I lines I-VI-II-V turnaround