Chord Vocabulary With Modal Chord Scales - Dorian, Mixolydian And Lydian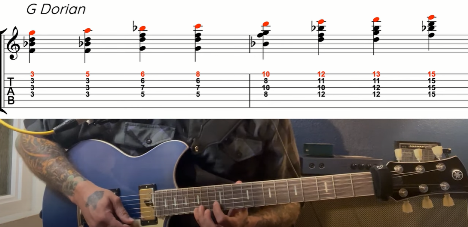 Chord Vocabulary With Modal Chord Scales - Dorian, Mixolydian And Lydian
Lesson By Nate Jarrell
This lesson is designed to help you expand your chord and voicing vocabulary through the use of modal chord scales.
Each notes of the Dorian, Mixolydian, and Lydian modes are harmonized to give you seven chord voicings based on each of those scales.
This approach is very useful for trio or solo playing because it gives you a voicing with each note in the scale on the top of the chords which allows you to easily harmonize notes from the melodies you are playing.
These are also very useful in for comping in a variety of situations and styles.
chords guitar scales modal dorian mixolydian lydian mode