The 14 Most Important Jazz Chord Progressions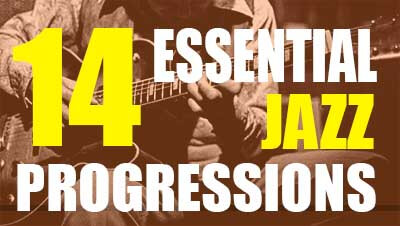 The 14 Most Important Jazz Chord Progressions

A chord progression is a succession of musical chords (with at least two notes) played one after another. Chord progression can be named harmonic progression and represent the foundation of western and traditional music.
Many jazz standards use similar chord progressions, in different keys it is very important to recognize them by ear and visually. Working and practicing basic chord sequences will make you feel more comfortable when you will need to learn jazz standards, it will more evident and easy to comp and solo.
In this lesson you will learn to recognize the 14 most important jazz chord progressions as minor and major II-V-I, the turnarounds and their variations, how to use passing diminished chords. You will find charts with roman numerals to easily transpose these harmonic progressions in different keys and some examples of comping with audio files, tabs and standard notation.
II-V-I jazz guitar chords chords Rhythm changes turnarounds