Blues Progressions For Jazz Musicians - 11 Forms With Analysis & Audio Files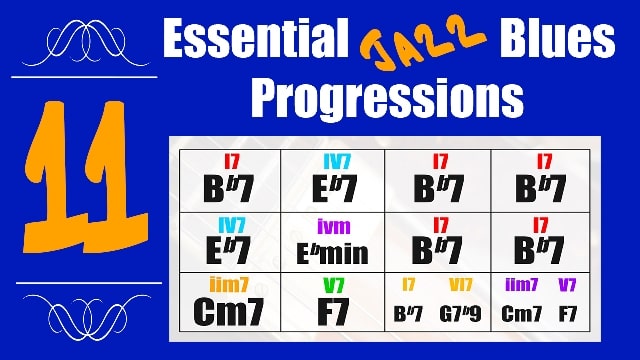 Blues Progressions For Jazz Musicians - 11 Forms With Analysis & Audio Files
Blues progressions are fairly present in jazz, there are many variations on the basic structure. In this lesson you will learn the different possibilities and how to incorporate major, minor II V I sequences and turnarounds in order to make them evolve.
Related Mini Lessons (click to access)
11 Jazz Blues Chord Progressions - Tutorial
10 Variations Of The Jazz Blues Progression - Guitar Comping Exercises With Chord Shapes
Blues Form # 4
Playing a diminished 7 chord (Edim7) in bar 6 instead of a dom chord is a common trick found in many jazz blues tunes.
Blues Form # 6
In this sixth progression the IV7 chord is replaced by a minor chord. This variation can be found in many jazz blues standards.
Blues Form # 7
The seventh blues form contains several variations :
Bar 2 : you hear a diminished 7 chord between the VI (Eb7) and I7 (Bb7) chords.
Bar 4 : A short II V sequence that goes to the IV7 chord (Eb7).
Bar 6 : Once again, a II V cadence resolving to the I chord (Bb7).
Bars 11 & 12 : A turnaround (Bb7 - Gm7 - C7 - F7b9) with a min7 chord.
Blues Form # 8
This is surely the more complex and odd variation of this lesson dedicated to blues progressions. The first thing you will notice is the Major 7 chord (Bbmaj7) in place of the common dom7 chord. Then, you will notice a number of ii V changes in bars 2, 3, 4, 6, 7 and 8 :
Bar 2 : Am7b5 - D7b9 going to Gm7.
Bar 3 : Gm7 - C7 going to Fm7.
Bar 4 : Fm7 and Bb7 resolving to Eb7 (the IV Chord of Bb7)
In bars 6, 7, 8 there a serie of descending ii V progressions without resolutions :
Ebm7 - Ab7
Dm7 - G7
Dbm7 - Gb7
The chord progression ends with a turnaround starting with a major seventh chord (Bbmaj7).
chords Blues Jazz blues voicings