Guitar Chord Construction and Connection - Cheat Sheets With Shapes and Intervals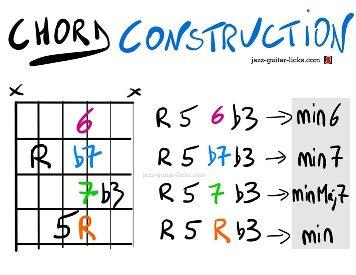 Guitar Chord Construction and Connection - Cheat Sheets With Shapes and Intervals
This page provides a collection of cheat sheets explaining in a simple and effective way how guitar chords are built and how they are connected one to the other. The idea is to understand where are located each chord tone of a specific voicing and how to connect these chords them by moving only one note at a time. Notice that this page is regularly updated with new shapes, don't forget to subscribe the newsletter to stay informed.
Shape 1 - min6, min7, minMaj7, min.
This first shape show the connections between minor 6 (R-5-6-b3), minor 7 (R-5-b7-b3), minMaj7 (R-5-7-b3) and minor (R-5-R-b3) chord voicing shapes with the root (R) on the fifth string.
Starting from the minor shape, you see and hear that when moving the root (R) a half-step below you get a minMaj7 chord. When moving the 7th of this minMaj7 chord a half-step below you get a min7 chord and so on.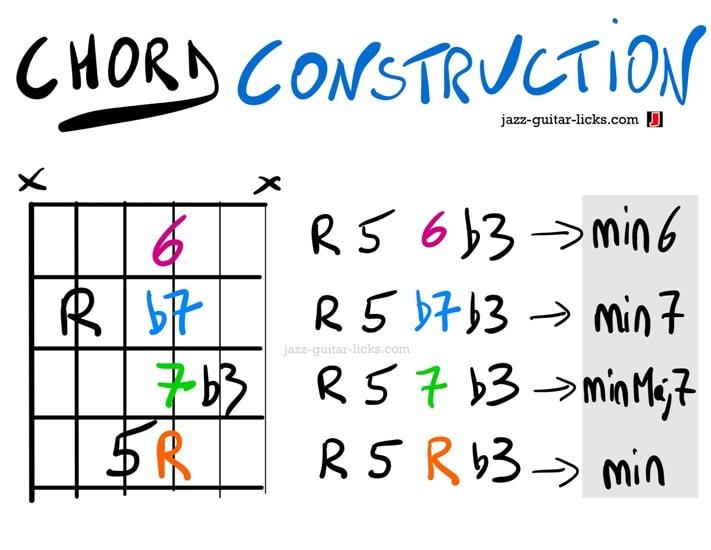 Shape 2 - Dim7, m7b5, dim
You see in this second diagram how to connect a drop 2 diminished 7 chord (R-b5-bb7--b3), a half-diminished chord (R-b5-b7b3) and a diminished chord (R-b5-R-b3) by moving only one note at a time.
Let's take the dim7 chord as a starting point, to get a m7b5 you need to move the bb7 a half-step above to reach the b7. Then, raise the b7 with two semitones to get a diminished voicing.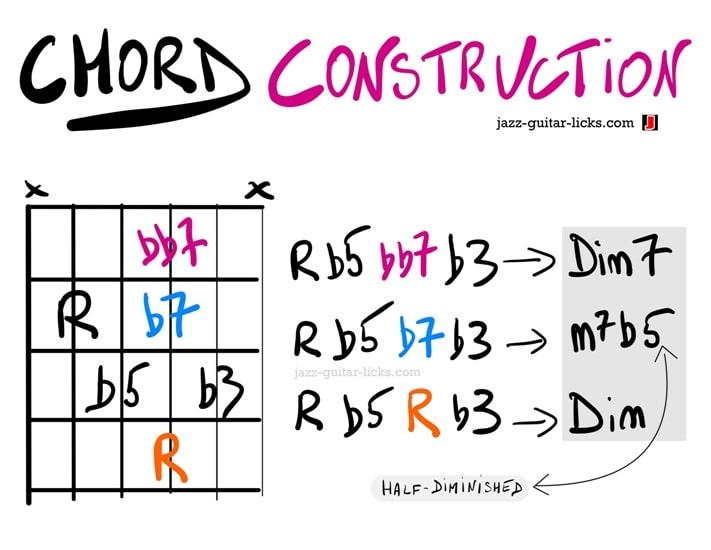 Shape 3
This third diagram explains how minor 6, minor 7 and minMaj7 chords are built. The voicings used here are : R-6-b3-5 (min6), R-b7-b3-5 (min7) and R-7-b3-5. These three chords have the root note on the A string. Notice that only one note moves at a time.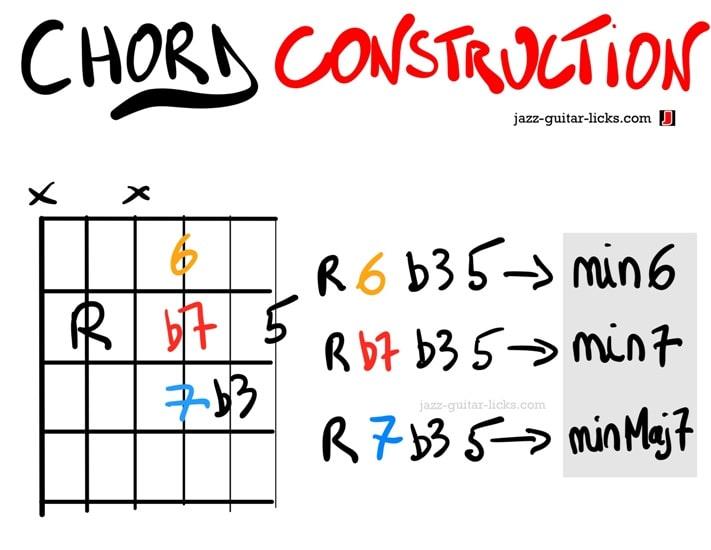 Shape 4
This fourth diagram includes four distinct voicing shapes connected by moving one note at a time on the second string (the B string). These chords are : 7sus2 (R-b7-2-5), min7 (R-b7-b3-5), dom7 (R-b7-3-5) and 7sus4 (R-b7-4-5).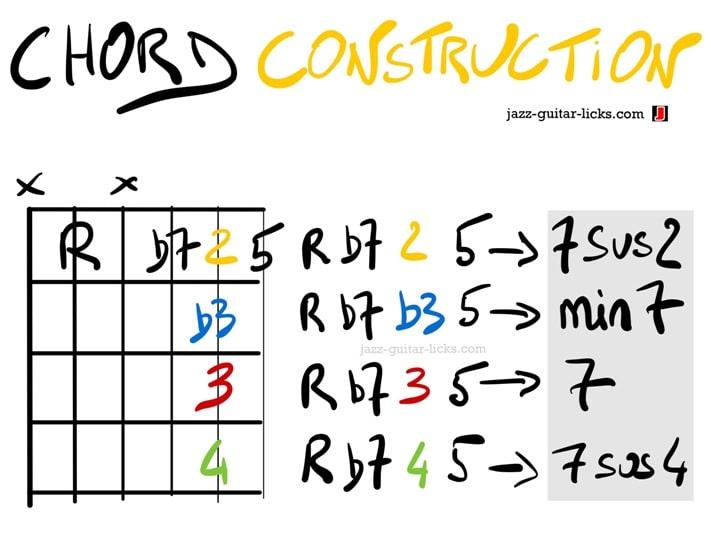 You'll find a mini guitar lesson about walking bass lines and chords containing a PDF with tab, score analysis, shapes, a video and a guitar pro file.

In this mini jazz guitar lesson you will learn how to play easy and cool jazz lines over basic chord changes found in jazz. Pdf, tab and video included.

With this short lesson you will learn how to play and connect basic guitar arpeggios over a diatonic chord progression.
cheat sheets chords guitar chords guitar shapes chord charts jazz guitar chords voicings Infographic