Jazz Guitar Lines Over Classic Jazz Chord Sequences - PDF, Video, Tab and Chord Shapes (part 3)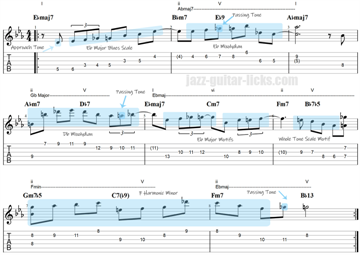 Jazz Guitar Lines Over Classic Jazz Chord Sequences - PDF, Video, Tab and Chord Shapes (part 3)
This lesson is the third part of the serie "Jazz Guitar Lines Over Common Chord Changes" that provides easy jazz guitar licks for beginners to play over II V, II V I and I IV II V progressions. These lines are majoritarily built with the major blues scale, the Mixolydian mode and a whole-tone scale motif.
Chord Progressions Used In This Study
Here is a brief analysis of the chord changes on which the lesson is based.
One Major 2 5 1 sequence in Ab (iim7| V7 | Imaj7) made of three chords that are Bbmin7, Eb9 and Abmaj7.
Two major 2 5 progressions in two different keys :

Key of Gb with the chords Abm7 (iim7) and Db7 (V7).
Key of Eb with Fm7 (iim7) and Bb13 (V7).

One 1 6 2 5 sequence in Eb (Imaj7 | vim7 | iim7 | V7) built with the following four chords : Ebmaj7 (I), Cm7 (vim7), Fm7 (iim7) and Bb7b5 (V7). Notice the use of a dominant seventh flat five chord (7b5) that bring a little bit of tension to this part. If you don't know what's a 7b5 chord, please go read the lesson about altered chords on guitar.
One Minor 2 5 (iim7b5 | V7) made of two chords : Gm7b5 (iim7b5) and C7b9 (V7b9).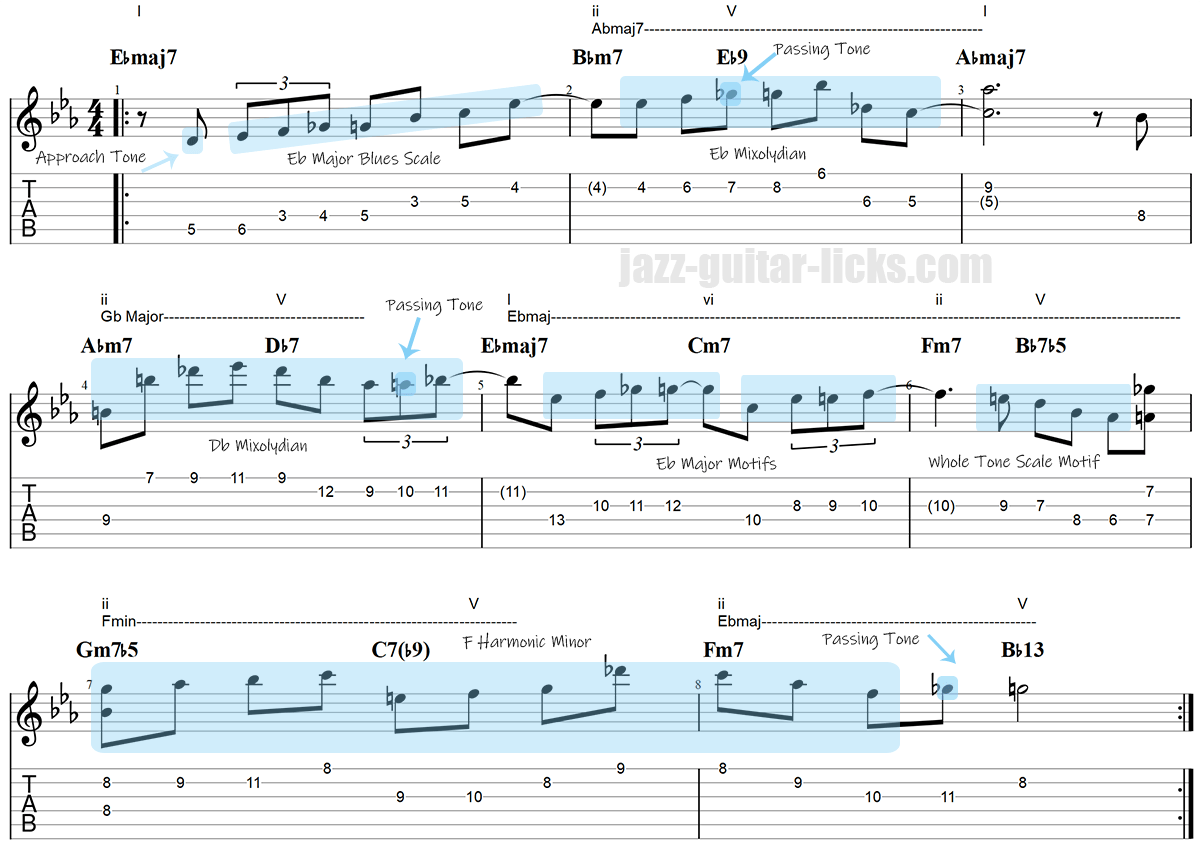 Melodic Analysis
Here are the scales used in this study.
Bar 1 : Eb major blues scale. (Eb, F, F#/Gb, G, Bb, C). It can be seen as the major pentatonic scale with an added note between the second (2) and the major third (3).
Bar 2 & 3 : Eb Mixolydian over Bbm7 and Eb9 with a passing tone between Gb and Bb.
Bar 4: Db Mixolydian over Abm7 and Db7.
Bar 5 : Two Eb major motifs with passing tones.
Bar 6 : Whole tone scale motif to emphasize the Root, 3, b7 and b5 of Bb7.
Bar 7& 8 : F harmonic minor over Gm7b5, C7b9, Fm7 with a passing toen at the end to make the link with the 13th of Bb13.

jazz guitar study jazz guitar licks major blues scale mixolydian mode whole tone scale I-VI-II-V II-V 2 5 1 progression