Major 9 Arpeggios and Cycle Of Fourths - Free PDF Lesson With Tabs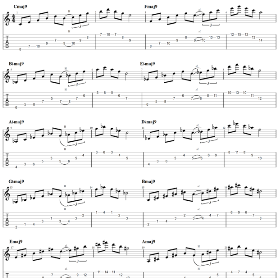 Major 9 Arpeggios and Cycle Of Fourths - Free PDF Lesson With Tabs
A new free lesson is available for download (or Give What You Want) in Jazz Guitar Lick's GUMROAD store. It's a 24-bar study involving the same major 9th arpeggio pattern following the cycle of fourths. This exercise is a good way to warm-up, untie the fingers and develop the musical ear.
The Study
Here in this YouTube short video you can the same pattern (1 - 3 - 5 - 7 - 9 - 1 - 3 - 5 - 7 - 9 - 7 - 5 - 3) played in all twelve keys following the cycle of fourths. Notice that the exercise implies the use an extra note to target the seventh note of the pattern (the tonic).
You can download for free the related PDF with tab/score by following this link.
What's a Major 9 Arpeggio?
First, you need to know what's a major ninth arpeggio and how it is built. It can be seen as a major seventh arpeggio with a supplementary note (the ninth). A maj7 arpeggio is built with tonic/ root (1/R), major third (3), perfect fifth (5) and major seventh (7). Example with Cmaj7, we have : C (1), E (3), G (5) and B (7). To get a Cmaj9 ninth arpeggio you just need to add the 9th of C (D), which is actually the second an octave up. Here are some basic guitar arpeggio shapes to illustrate this.

What's The Cycle Of Fourths?
The cycle (or circle) of fourths is the way the 12 musical notes of the chromatic scale are arranged following a sequence of perfect fourths (5 semitones). Practicing exercices following the circle of fourths allows to play all the notes and keys of the western music. Notice that the circle of fourths is directly related to the circle of fifths.
As shown in the chart below, starting from C we get the twelve notes of the chromatic scale separated from each other by a perfect fourth:
| | | | | | | | | | | | | |
| --- | --- | --- | --- | --- | --- | --- | --- | --- | --- | --- | --- | --- |
| Scale | C | F | Bb | Eb | Ab | Db/C# | Gb/F# | Cb/B | E | A | D | G |
| Number of Sharps and Flats | 0 | 1b | 2b | 3b | 4b | 5b/7# | 6b/6# | 7b/5# | 4# | 3# | 2# | 1# |
arpeggio cycle of fourths major 9 arpeggios Pdf gumroad jazz guitar study