Arpeggios Over II V I and I VI II V Chord Changes - Guitar Lesson With PDF, Shapes and Video (part 2)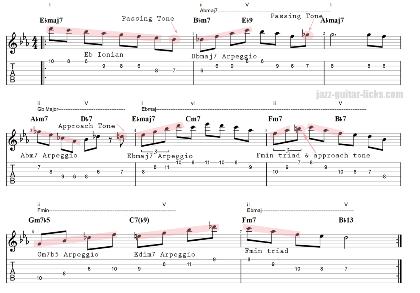 Arpeggios Over II V I and I VI II V Chord Changes - Guitar Lesson With PDF, Shapes and Video (part 2)
In this guitar lesson with shapes, tab, video and analysis you will learn how to use seventh arpeggios over important jazz chord sequences as minor & major II V , major II V I and I vi ii V progressions. You'll find the link to the PDF at the bottom of the page.
Chord Progression & Analysis
The lesson is based on an 8-bar progression implying three common chord changes that are :
One Major 2 5 1 sequence in Ab (iim7| V7 | Imaj7) implying three chords : Bbmin7, Eb9 and Abmaj7.
Two major 2 5 sequences :

one in Gb with the chords Abm7 (iim7) and Db7 (V7).
One in the key of Eb including two chords that are Fm7 (iim7) and Bb13 (V7).

One 1 6 2 5 progression in Eb better known as "turnaround" (Imaj7 | vim7 | iim7 | V7) with four chords : Ebmaj7 (I), Cm7 (vim7), Fm7 (iim7) and Bb7 (V7).
And to finish, one Minor 2 5 (iim7b5 | V7) made of two chords : Gm7b5 (iim7b5) and C7b9 (V7b9).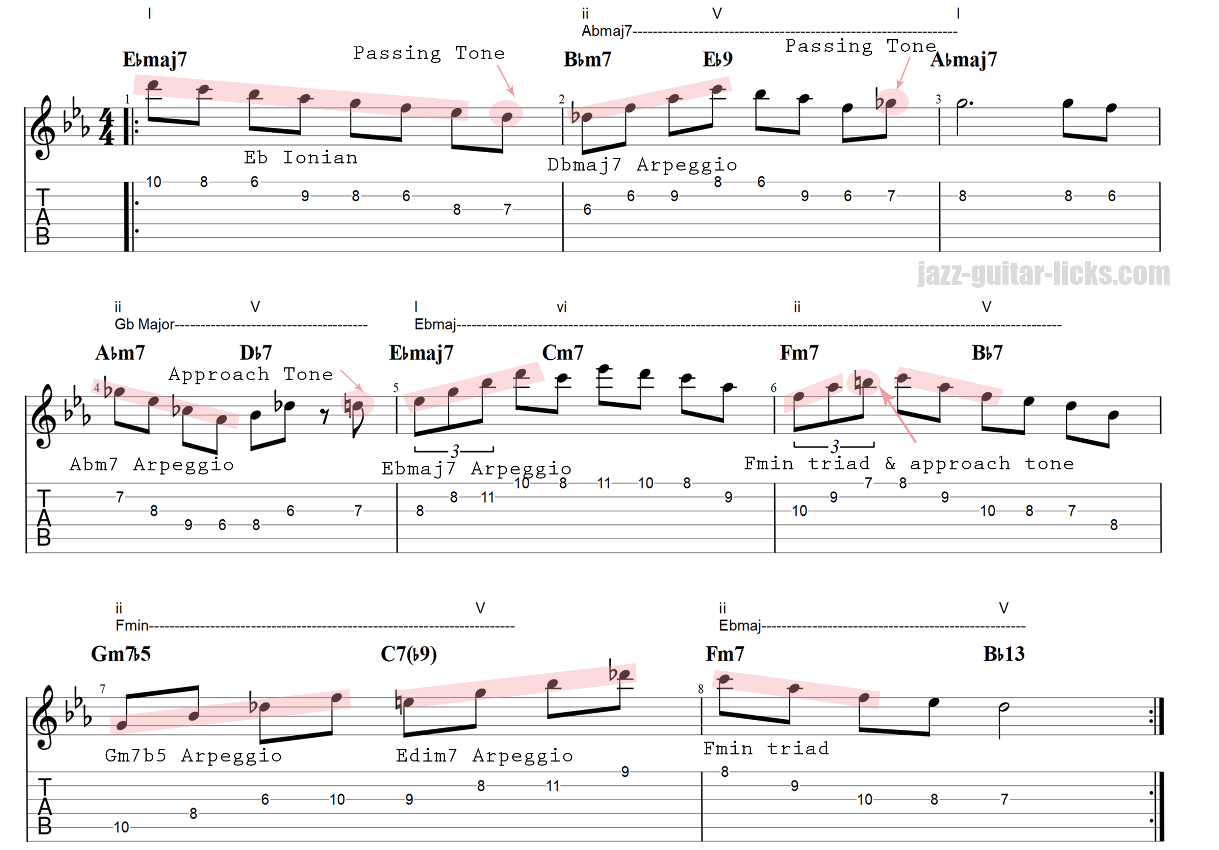 Melodic Analysis (arpeggios)
Here is a short analysis of the arpeggios use to build the melody.
Measure 1 : Eb Ionian (major scale) over Ebmaj7, nothing more obvious.
Measure 2 and 3 : Dbmaj7 arpeggio (Db, F, Ab, C) to emphasize the b3, 5, b7 and 9 of Bbm. Notice the passing tone between F and G to target the seventh (G) of Abmaj7.
Measure 4 : Descending Abm7 arpeggio (Ab, Eb, Cb, Ab) over Abm7.
Measure 5 : Ebmaj7 arpeggio (Eb, G, Bb, D) over Ebmaj7.
Measure 6 : F minor triad (F, A, C) over Fm7 with a chromatic approach tone to target the fifth (C). Check this PDF for more triad shapes on guitar.
Measure 7 : Gm7b5 (G, Bb, Db, F) and Edim7 (E, G, B, Gb) arpeggios over the ii V7b9 sequence.
Measure 8 : F minor triad to finish.
Chord Shapes
You'll find below some guitar chord shapes to comp over the lines discussed above. These are the most basic chord positions (drop 2 and drop 3). Don't hesitate to use other chord voicings, you can create your own, otherwise you'll find a lot of guitar chord positions in this dictionary.

Related PDF
Here you can get the free transcription (you may also give a fair price) with tabs and chord shapes available as a PDF file.
arpeggios I-VI-II-V turnaround jazz guitar licks jazz guitar lines guitar arpeggios