10 II V I Jazz Guitar Licks For Beginners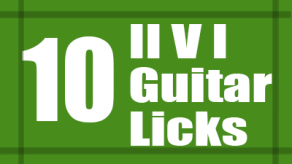 10 II V I Jazz Guitar Licks For Beginners

The II-V-I sequence is the most common chord progression played in jazz music and a must know for any guitarist who wants to learn jazz language.
The II, the V and the I (chords and scales) are constructed based on the corresponding second (II), fifth (V) and first (I) step of the major scale.
In this guitar lesson you will learn what's the 2 5 1 progression and how to play easy jazz lines over a 2-5-1 using the most common scales found in jazz music.
what's a 2 5 1 2-5-1 II-V-I jazz guitar licks 2 5 1 guitar lesson how to improvise over a II V I progression jazz guitar lines II V I lines jazz guitar patterns