Major 9th guitar chord diagrams (Maj9) - Basic positions and drop 2 voicings
Major 9th guitar chord diagrams (Maj9) - Basic positions and drop 2 voicings

Major 9 chords are theoretically built with a root (1), a major third (3), a perfect fifth (5), a major seventh (7) and a ninth (9). A maj9 is simply a major seventh chord with a ninth added.
What's the difference between maj9 and add9
Because the difference between a maj9 and an add9 chord is often a source of confusion, this has to be clarified here. A maj9 chord needs a 7th in its composition, this is just a shorter way of saying maj7add9, that's what makes it different from add9. For example, a Cadd9 chord is made up of C (the root), E (the major third), G (the fifth) and D the ninth. there is no 7th in it. Unlike the Cmaj9 chord is made up of C, E, G, B (the seventh) and D.
| | | | | | |
| --- | --- | --- | --- | --- | --- |
| Major seventh chord | 1 | 3 | 5 | 7 | x |
| Major ninth chord | 1 | 3 | 5 | 7 | 9 |
| Add9 chord | 1 | 3 | 5 | x | 9 |
Notation symbol
Major 9th chords can be noted M9 or maj9.
Arpeggios
Major 9th arpeggios are built exactly the same way as major 9th chords. Formula is :1-3-5-7-9.
Major 9 guitar chords - Basic positions
For those who don't want to experiment drop 2 chords, here are two basic chord shapes to play maj9 chords on the guitar. The first diagram has its root on the sixth string and the second has its root on the fifth string. Because guitarists don't have enough fingers to play the five notes of these kind of chords, the fifth is omitted. It's better to omit the fifth or even the root than the seventh, the third or the ninth that are most important and gives the color of the chord.
Major 9 chord - Root on the 6th string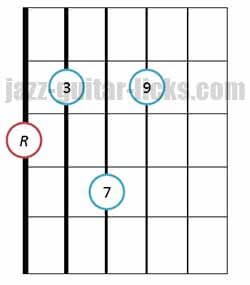 Major 9 chord - Root on the 5th string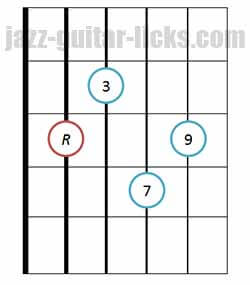 Drop 2 major 9th guitar chords - Diagrams and voicing charts
Here are 12 guitar diagrams to play drop 2 major ninth chords. These diagrams are based on the drop 2 major seventh chords. To build a drop 2 maj9 chord you just have to move the root 2 semitones (two frets) up to get the ninth.
Rootless voicings and diagrams
As you can see, root notes are dotted in red in the following diagrams, they are nor played, but it is important to locate them to find more easily the chord position on the guitar neck and as well as its name.
| | | | | |
| --- | --- | --- | --- | --- |
| Major 9th Root position | 9 | 5 | 7 | 3 |
| 1st inversion | 3 | 7 | 9 | 5 |
| 2nd inversion | 5 | 9 | 3 | 7 |
| 3rd inversion | 7 | 3 | 5 | 9 |
Drop 2 Major 7th chord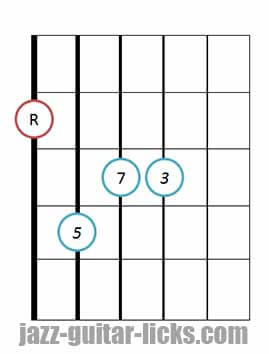 Drop 2 ninth chord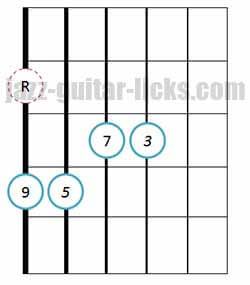 Rootless drop 2 major 9th chords - Root positions and inversions - Bass on 6th string
Drop 2 major 9 chord - Root position - Ninth in the bass - Bass on 6th string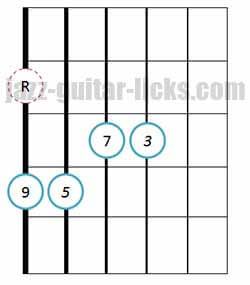 Drop 2 major 9 chord - 1st inversion - Third in the bass - Bass on 6th string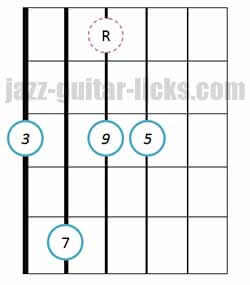 Drop 2 major 9 chord - 2nd inversion - Fifth in the bass - Bass on 6th string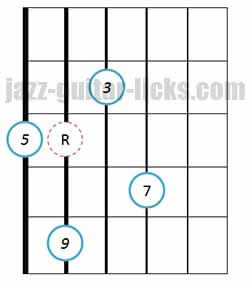 Drop 2 major 9 chord - 3rd inversion - Seventh in the bass - Bass on 6th string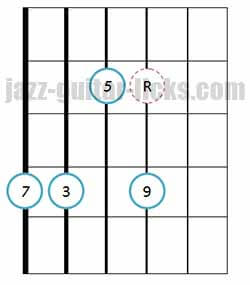 Rootless drop 2 major 9th chords - Root positions and inversions - Bass on 5th string
Drop 2 major 9 chord - Root position - Ninth in the bass - Bass on 5th string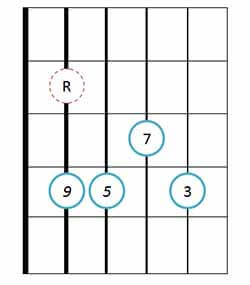 Drop 2 major 9 chord - 1st inversion - Third in the bass - Bass on 5th string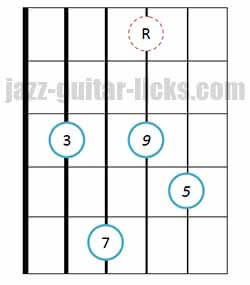 Drop 2 major 9 chord - 2nd inversion - Fifth in the bass - Bass on 5th string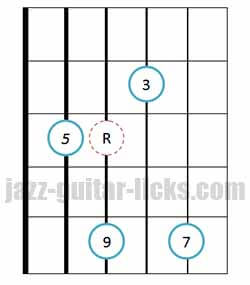 Drop 2 major 9 chord - 3rd inversion - Seventh in the bass - Bass on 5th string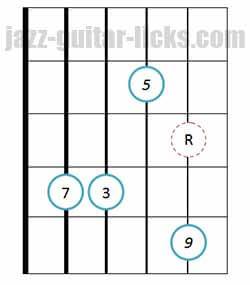 Rootless drop 2 major 9th chords - Root positions and inversions - Bass on 4th string
Drop 2 major 9 chord - Root position - Ninth in the bass - Bass on 4th string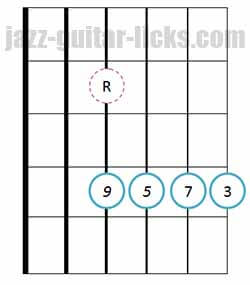 Drop 2 major 9 chord - 1st inversion - Third in the bass - Bass on 4th string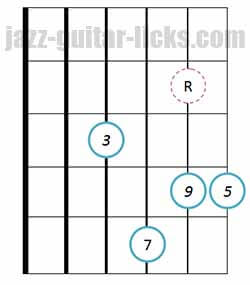 Drop 2 major 9 chord - 2nd inversion - Fifth in the bass - Bass on 4th string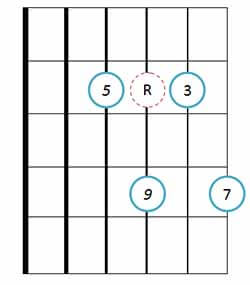 Drop 2 major 9 chord - 3rd inversion - Seventh in the bass - Bass on 4th string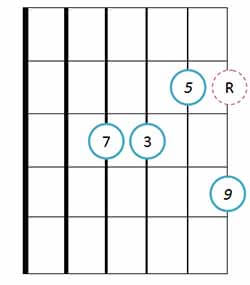 Last edited: 06/08/2017