Home

/

Blog

/

NEW PDF eBook available | 11 blues-jazz progressions for guitar | Chords and comping studies
NEW PDF eBook available | 11 blues-jazz progressions for guitar | Chords and comping studies
On 12/02/2017
Comments (0)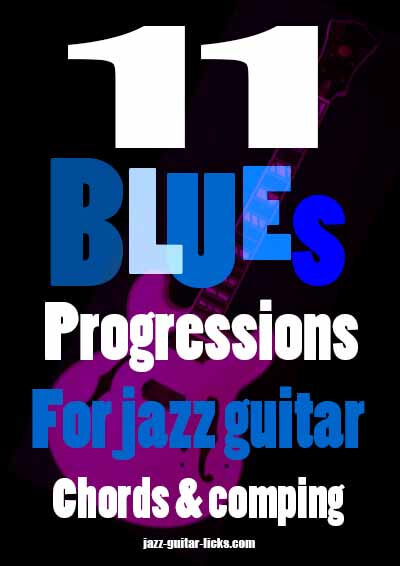 A new printable PDF eBook is available. It's about 11 blues progressions for jazz guitar with tabs, analysis (with roman numerals), explanations and audio files, divided into four chapters :
1- Blues progressions and variations
2- Chord studies
3- Guitar walking-bass studies
4 -Rhythm patterns
1-Blues progressions and variations
This first chapter is about six progressively difficult blues progressions. The purpose being to hear, play and understand the main blues progressions used in jazz by using three-note and four-note chords (drop 2 and drop 3).
2-Chord studies
The aim of this chapter is to make evolve the same blues, jazz progression using different chord voicings. (rootless chords, drop 2 chords, extended and inverted chords) through 3 studies.
3- Guitar walking-bass studies
This chapter is focused on a really cool comping technique which consists in linking chords together by using bass notes as a bass player would do. 2 blues, jazz progressions are developed here.
​4 - Rhythm patterns
18 rhythm patterns to be applied to the previous studies are proposed in this chapter.
Package details
1 printable PDF eBook with 11 blues, jazz progressions with tabs and analysis.
7 audio files (chord and guitar walking bass studies)
2 blues, jazz backing tracks (bass & drums). 120 & 160 BPM.
jazz jazz guitar lesson Jazz guitar eBook Jazz guitar method jazz guitar chords jazz chords chords guitar eBook method lesson Drop 2 chords comping jazz comping jazz guitar comping guitar comping jazz eBook jazz method blues jazz guitar blues jazz lesson blues progressions blues jazz progressions 12-bar blues guitar bird blues new-york changes turnaround II-V progressions walking-bass guitar walking-bass guitar walking bass lesson chords inversions chord extensions inverted chords extended chords drop 3 chords guitar rhythms chord studies
Related posts
This jazz guitar comping lesson provides you different ideas using drop 2, inverted and extended chords to apply to "there will never be another you"