Neo Soul Guitar Chords (Just The Two Of Us) - Exercise With Tabs, Diagrams And YouTube Short
Neo Soul Guitar Chords (Just The Two Of Us) - Exercise With Tabs, Diagrams And YouTube Short
Neo soul is a great illustration of how blending genres indeed, it is a healthy mix of soul, R&B, jazz, blues, funk, and even hip hop. This brief guitar lesson provides an easy eight bar chord study based on "Just The Two Of Us" by Bill Withers.
The Study
Here is a brief analysis of the chord progression used in this lesson :
||: VImaj7 - V7 | im7 - viim7 - III7
VImaj7 - V7 | im7 - viim7 :||
This is actually the chord changes of "Just The Two Of Us". It's in the key of Em (G major), thus giving the following chords :
Cmaj7 (VImaj7).
B7#5 (V7).
Em9 - Em11 (im7). Adding the ninth and/or the eleventh to a minor seventh chord is common Neo Soul trick. You can get more minor ninth and minor eleventh chords by clicking on the links.
Dm9 - Dm11 (viim7).
G7#5 (III7alt).
Swing Sixteenth Notes
Notice that the sixteenth notes are played "swing" (as mentioned at the top of the transcription).

To swing a group of four sixteenth notes, you would need to play the second and the fourth sixteenth with a slight delay. As explain below, you need to replace the four sixteenth notes by triplets and to tie the second and the fifth 16th to the first and the fourth. You can easily hear this in the video.

Keep in mind that you can slightly increase or lower the distance between the two swung notes. It is the player's choice.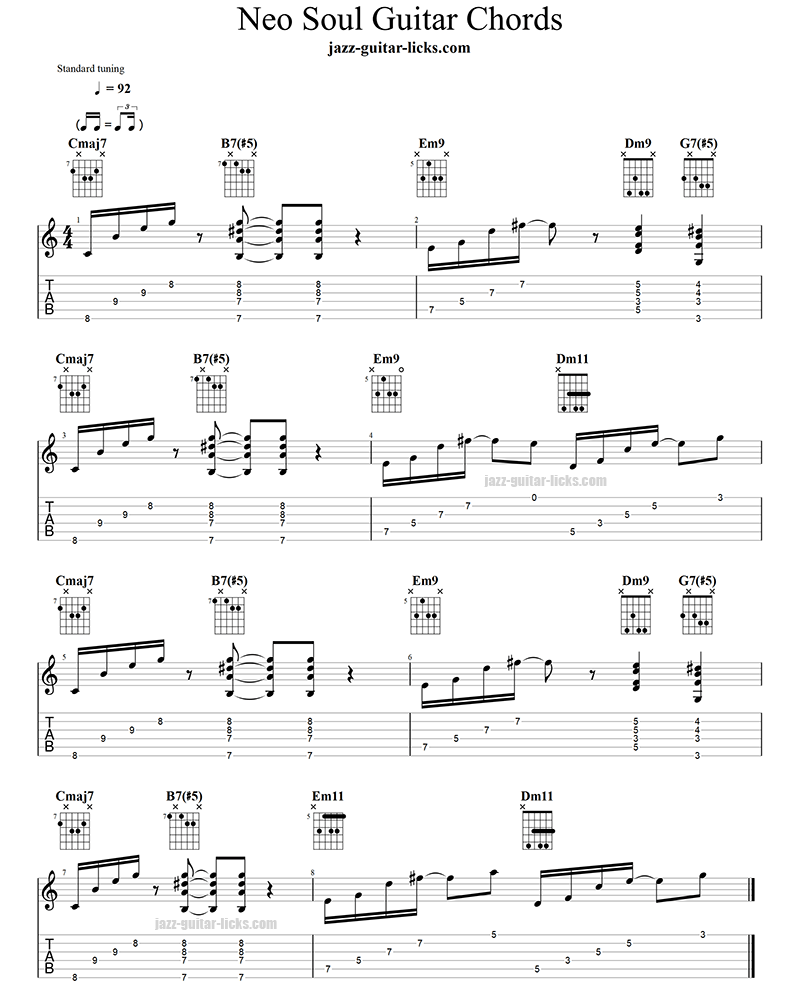 Last edited: 2023-06-20