George Benson
George Benson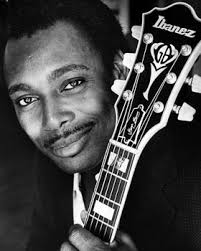 George Benson (1943) is an American jazz guitarist and singer/songwriter. He began his career has a pure jazz guitar player (Influenced by Wes Montgomery and Charlie Christian) and then headed toward to smooth jazz and pop world music. He left an indelible imprint in the world of jazz guitar due to its mastery of bebop language.
He is widely known for playing on Ibanez GB signature model guitars, including the GB30TH, GB200, GB15, GB10 .He also plays with D'Angelico, Guild (in the past) and Gibson L-5.
George Benson uses Fender amps, Fender Hot rod deville, Fender twins and also Polytone mini-brutes. He has his signature model George Benson Hot rod deluxe 40 W.
This is George Benson lick using the mixoblues scale. Jazz transcription with tab and analysis.