How to Buy the Best Jazz Guitar Based on Body Type (Guide for Beginners)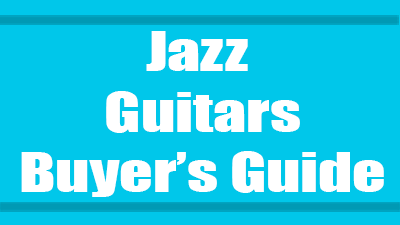 How to Buy the Best Jazz Guitar Based on Body Type (Guide for Beginners)
Guest post by Aaron Schulman
While there is no absolute best jazz guitar for everyone, there are definitely a few jazz guitar models that would be a best fit for you.
The trick is to learn enough about the different body styles and electronics to understand the sonic qualities that each jazz guitar expresses.
You'll want to educate yourself both on the different jazz guitar body styles and manufacturers. The more homework you do, the more your understanding will grow and the more confident you will be in your final purchase decision.
The second trick is to read a lot of guitar reviews on different jazz guitar models. Read guitar reviews from players, professionals and owners on each model to get the best overall sense before wasting too much time hunting them down in stores and playing them. The more time you spend doing up-front homework on different jazz guitar models and the more organized you are, the more effective and efficient your search will be.
The third trick is not as much of a trick, as it is just practical, common sense.
You have to get them in your hands and play enough different models, makes and styles to be able to feel and hear the difference.If you are a beginning jazz guitarist, then it would be best to have a more accomplished player assist you on this purchase journey. This could be a teacher, friend, or family member with significant jazz guitar experience who would be willing to take the time to help you find the best quality for your budget.
However, if you are a more intermediate or advanced player, you just have to dig into the process, be patient, and make sure you understand enough about jazz guitar models so that you make the best decision to suit your budget, your playing mode preference, and your personal style.
To get started, there are 4 main types of electric jazz guitar bodies, but 2 are similar enough to be grouped. Some people would say there are actually 3 classes of guitar body designs that can be considered jazz guitars.
4 Types in 3 Groups
The 4 types of guitars in 3 groups are:
Archtop (fully hollow)
Semi-hollow & Semi-acoustic (grouped together for this guide)
Solid Body (picture a classic electric guitar)
When you play each type of jazz guitar, it is best to simplify your amp use so that you only have 1 variable, the guitar. If you play different models on different amps with different settings, it will be more difficult to discern the differences between models in terms of the variety of tonal output capabilities. Therefore, when you go to test different models, be sure to play various models on the same, qualified amplifier. Choosing the right guitar amplifier is a completely different chore in itself, so we'll stick to jazz guitar bodies in this guide.
If you are serious about your jazz guitar purchase, you should also consider how you will go about keeping track and comparing your various choices so that you have an organized, disciplined approach. The more prepared you are, and the more homework you do, the more satisfied you will be with your final decision. You can go old-school and create a binder or notebook and take notes on various models. The challenge is that you would have to carry the notebook with you wherever you go and make sure you are keeping track with pen and paper, pros and cons, and possibly guitar magazine clippings or printouts from various websites.
Another option would be to use some kind of productivity app where you can compile all of your research in 1 convenient place. Most people carry a smartphone or mobile device that is capable of taking quality photos, doing web searches and accessing cloud storage like Google Drive for free. You could keep a live document on your productivity app and Google Drive and check off your shopping and comparison goals in 1 place, without the hassles of needing a pen and paper, printouts and magazine clippings. In addition, you can use your mobile device to look up other comps and reviews on the spot when you go to make the final purchase decision, to make sure you are getting the best deal on the market for the jazz guitar model you decide to purchase. The homework and the mobile device can be a powerful tool for negotiating with a 3rd party seller or music store when it comes time to buy.
So, once you decide on the best method for organizing your research, you are ready to begin playing different models. You can set up your research tags or categories into the 3 or 4 body types described here, and then further subdivide your categories into different actual brands and model numbers.
The best place to start is with the classic jazz guitar body. . .
How to Choose an Archtop Guitar ?
The Archtop body is the classic jazz guitar that most people think of when they picture a jazz guitar. Gibson guitars is a major manufacturer of the classic archtop design that many people are familiar with, although it is not the only choice. Your first choice might be an archtop jazz guitar simply because it has that iconic jazz guitar look and feel. And while they are very popular, they can be cost prohibitive for many, especially if buying a Gibson.
The biggest issues one might face when playing a Gibson archtop would most likely be the price, the size, and the feedback issues from the body / design. One of the tests you will want to perform while test-driving your jazz guitar picks would be to make sure you can play them at higher volume / gain levels to see how the guitar outputs and how the amp responds. Make sure you position yourself in the same setting you would choose for your typical setup, whether you spend a lot of time performing publicly or in a small studio. Then check for feedback issues in different positions and at higher volume levels.
Find out how finicky or sensitive the feedback is and how easy it is for you to adjust to notch out or eliminate feedback while still playing at a significant volume level. While you play the guitar using different postures / positions, such as standing and sitting, or having your leg propped in either setting, test how it feels in your hands. Test the neck feel and playability against the size of your hands and finger length. Test the strain on your neck, back and arms while standing with a strap. Test your arm-reach and comfort around the guitar body. Some smaller framed people, kids and small teenagers might have physical challenges holding a large archtop jazz guitar. Many smaller framed people may fall in love with the idea of an archtop for the classic look and tone, but the issues caused by the large body size might make jazz guitar playing a bigger problem.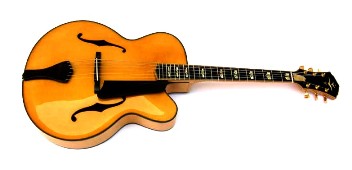 Consider the playing position and environment in which you will be spending most of your time. Whether you will be sitting in your room 90% of the time and playing privately, or whether you plan on playing 50% of your time while standing and performing at different venues is a big factor in your decision. In other words, be sure that you do not get so awe-struck with a certain model because your favorite jazz artists are using that particular model, that you end up making a poor decision and are left with an expensive guitar that is not your best fit.
While the sound of a classic archtop is hard to beat, be sure to test several models on different days to be sure you are getting the best fit for you and for your budget. Countless jazz musicians have gone with the archtop for its distinct jazz tone that most people recognize, but be sure that it is the right fit for you. Be sure to test other styles, makes and models before taking the plunge.
The major pros of an archtop guitar are:
The popular demand for this style have created a market with many choices at affordable prices
The classic jazz guitar tone they create with little manipulation
Larger size might be suitable for many players
Major cons for the archtop jazz guitar model are:
Smaller framed people, children, and those with shorter arms or larger mid-section might find it more difficult to play
Tone is fairly limited than solid body or without amp or pickup modulations or synthetic modeling manipulations
Hollow body creates more feedback in more play settings than a solid or semi-hollow
How to Buy a Solid Body Jazz Guitar ?
If you find that the archtop / hollow body jazz guitar is too large for you, or the body size is too unwieldy do to your stature or arm length, making it uncomfortable to play smoothly, you might consider a solid body electric guitar set up to cross over as a jazz guitar. While the solid body electric jazz models are available with smaller body sizes than the archtop and semi-hollow models, they also have a few other perks. You won't have the same feedback issues because the body cannot resonate like a hollow body (archtop). In addition, the solid body guitars, with the right setup or combination of pickups, can easily switch between jazz, rock, blues and metal play.
Essentially, they are more versatile because of their size and the potential to be set up with different sets of pickups to model a wider array of tones for various playing styles and music genres. This means you can easily switch from a warm, jazz-like tone to a screaming electric lead, and then to a 60s crunch rock style with ease, and without having to change axes. You can get close to that warm, jazz tone by having your solid body set up with humbuckers, although it will not reach the warmth and richness of a hollow body / archtop, it will not have the feedback and size issues.
Be sure to try a few different solid body guitars that are set up to replicate a warm jazz tone and do your homework before settling in on your purchase. Although they do not have the classic jazz look and they can't quite reach the creaminess of an archtop tone that is properly set up and amplified with a vintage tube amp, they are becoming more popular in the jazz arena by players who like to switch up styles as well as those who prefer smaller, lighter, more manageable guitar bodies.
Solid Body Pros
More versatile tones for playing multiple genres and styles
Usually smaller, lighter bodies available for smaller framed people
Can get more tone ranges with lower budget because of the market demand and availability
Feedback issues are significantly diminished
Solid Body Cons
Can't get the full depth of the classic jazz tone, although you can come close with customizations
Don't have the vintage look, weight and feel that some people prefer
How to Choose a Semi-Hollow Guitar ?
For the person that does not quite fit the size and weight of a classic archtop jazz guitar, and does not want the more "rock and roll" look of a solid body guitar, the semi-hollow guitar might be the best choice. It is my opinion that the semi-hollow guitar has more similarities in feel, playability and tone to an archtop than it does to a solid body, depending on the pickups that are installed or customized. If you want the middle of the road guitar that is significantly more flexible in tone output capabilities as well as more versatile in different music genres, but looks and feels more like an archtop, the semi-hollow might be right for you.
The semi-hollow and semi-acoustic give you a tone capability that is much closer to the warmth of a classic, hollow body archtop than a solid body electric guitar can. The semi-acoustic is a completely hollow model, but has a more shallow body depth than a typical archtop. Think of a semi acoustic as a thinner version of an archtop with a body that is completely hollow - essentially a thinner acoustic body, usually an f-hole design, with electric setup. The semi-hollow, on the other hand, has a wood block structure in the middle of the hollowed body, or the hollow parts on each side of the center were carved from a solid block, and then the back and top were applied as book-matched tonewood. So the resonant body chamber is divided in 2.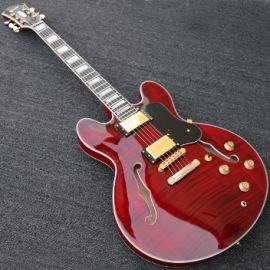 People who purchase semi-hollow or semi-acoustic guitars for jazz playing are looking for a tone as close to the vintage archtop tone as possible, on a smaller, lighter guitar. And although they are smaller, thinner and lighter than a full size, hollow archtop jazz guitar, they are not as small and light as a solid body electric guitar setup for jazz. The key is, of course, to play all 3 (or 4) body styles over a long enough period, and in different playing positions to feel for yourself where you might have issues with the size or handling of the different body styles. It's better to be patient and play a lot until you are sure.
Pros of Semi-hollow Jazz Guitars
Best middle of the road guitar for jazz players
Smaller and easier to handle than full size hollow archtop
Less feedback issues than archtop
Warmer jazz tone capabilities than solid body
More options and affordability than archtop
Cons of Semi-Hollow Jazz Guitars
Size is still larger and harder to manage than solid body electric guitars for some players
Less versatile tone options and music genre capabilities than solid body guitars
Curvy body shape is still more challenging for some than solid body models
More expensive than average solid body
Conclusion
So, now that you understand the different types of jazz guitars available based on the body style, the real fun begins! Get your notebook or your smartphone (or both), set up your research categories and dive in! Play as many different models as you can and take great notes. Listen to videos of professionals on Youtube playing the models you are researching as well. Visit jazz venues and talk to some other players and get some feedback from professional performers, guitar technicians in stores, and instructors wherever possible. When it's all said and done, be sure to purchase the best fit for your ability, your body size, your playing style preferences and your budget, and you will have a jazz guitar that will bring satisfaction to your ears for years!
About the author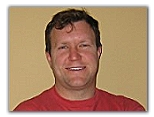 Aaron Schulman has been a musician and guitar player, writing guitar reviews and composing music for over 30 years. Music composition, writing and listening to jazz are some of his many interests and passions.
Guest post jazz guitars guitar review guide for beginners