GuitarSim - App & Smartphone Accessory For Guitarists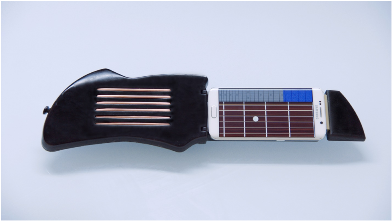 GuitarSim - App & Smartphone Accessory For Guitarists
GuitarSim is the smartphone accessory that turns your phone into a mini digital guitar with tons of features. It's not just your average guitar; Guitarsim leverages your phone to give you a powerful and portable gadget to jam with, and its foldable so you can throw it into your bag without hassle.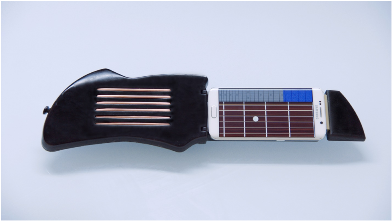 A Smartphone Accessory
Components
GuitarSim has two components: the app (available for both iOS and Android), and the physical hardware. All strumming is done on the hardware via the six sensors, and all fretting is done in-app by touching your phone screen.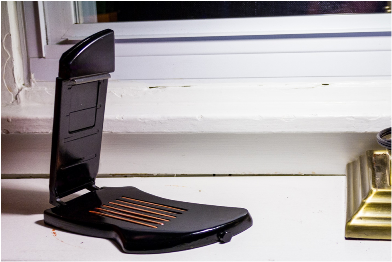 The Neck
The brown guitar neck displayed on the screen is a section of a 21 fret guitar. The skinny column with the blue rectangle is the Neck HUD. Visible frets are highlighted in blue on the Neck HUD, and dragging that highlighted box up or down adjusts the user's position on the fretboard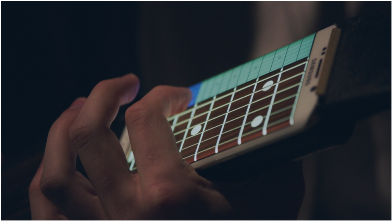 The app intelligently maps frets onto the guitar neck to ensure that the fret-spacing is accurate to real guitar dimensions regardless of your screen size. In other words, taller phones will show more of the guitar neck rather than displaying a scaled-up neck with a pre-determined number of visible frets.
The Strings
GuitarSim has six touch-sensitive electrodes (the rounded metal strips at the bottom) that substitute for guitar strings. These electrodes sense the capacitance on your skin; the electrical-charge potential in your body. The more contact you make with the electrodes the higher the capacitance reading GuitarSim detects. This way the device knows how intensely you're strumming and the app adjusts the volume accordingly.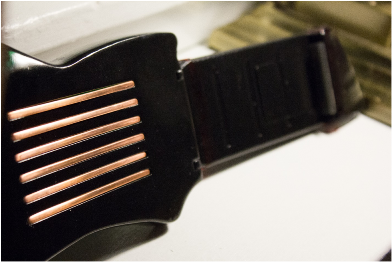 Audio
As you play, all sounds come from your phone's speakers. If you want to play privately you can plug headphones in and go into your own zone. Bluetooth headphones aren't recommended however, since the latency between your fingers strumming and sound emitting from your headphones will be noticeable and very difficult to play with.
Both the Android and iOS versions of the app offer these five guitar types to choose from:
Acoustic
S-Type
G-Type
Distorted S-Type
Distorted G- Type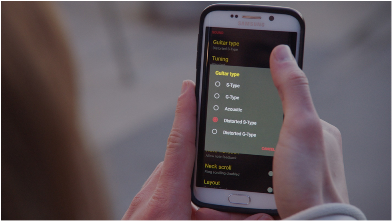 The iOS app also contains a high-end audio synthesizer that allows for a near infinite range of tones and effects. Similar functionality is slated for design in the Android version, but without the support of new Google Audio APIs or 3rd party libraries it may not be feasible.
Easy Chords
One of the showcased features of GuitarSim is Easy-Chord Mode. An Easy-Chord is a button that you customize to a specific fingering (a note, a chord, etc). For example, you could take a popular song and set an Easy-Chord button for each of the chords it uses. Then, to play the song, all you have to do is press an Easy-Chord button and strum. Making music is fun, but learning the ins-and-outs of an instrument is a big barriers topping many would-be musicians from even trying. GuitarSim's Easy-Chord feature attempts to reduce the learning curve by making it simple to pick up the device and play great-sounding music immediately.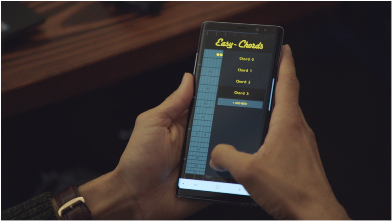 Recording & Playback
If a lick is recorded in a session and no one is around to hear it, does it make a sound? Probably. But in case it doesn't GuitarSim includes a menu to record, play, and share tracks. The iOS version of the app records tracks inboth mp3, and FLAC formats. Unfortunately, the Android version's tracks can only be listened to within the GuitarSim app's media player due to the complexities of system-level audio recording on Android phones.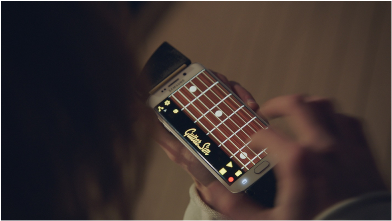 Bluetooth & Battery
The device is wireless, using Bluetooth v4 (Bluetooth Low Energy or "BLE") as the method of transmitting strum data to the app running on your phone. Wireless devices need power; GuitarSim is no different. Each GuitarSim is powered by a rechargeable Lithium battery, and can last for weeks on a full charge.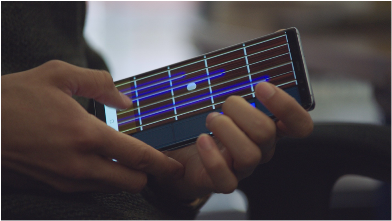 Next Steps : Collecting Emails, Indiegogo Campaign Launch
The makers of the device, GS Technologies, have a functional prototype and have taken the design to Indiegogo to gauge market interest. Their measure of interest at this stage is simple: email signups. Their pre-campaign page is live on Indiegogo, where they collect emails as a measure of interest in the product. If they collect 1,000 email subscriptions through the page, they'll do a full campaign launch.
If so, GS Tech. plans to set a goal of $10,000 of backer funds to proceed with the final stages of GuitarSim's development and launch to market. Hardware startups generally require more cash than this to pay for expensive injection molds and tooling costs, so this startup plans to use a successful crowdfunding campaign as a proof-of-demand. From there, it's a matter using that buzz to draw interest from private investors who can provide the remainder of the capital needed to fund the initial production run.
If you're interested check out GuitarSim's Indiegogo page at https://www.indiegogo.com/projects/guitarsim/coming_soon!
GuitarSim guitar apps music production