Voice Leading For Guitar - Basic Chords - 5 Easy Exercises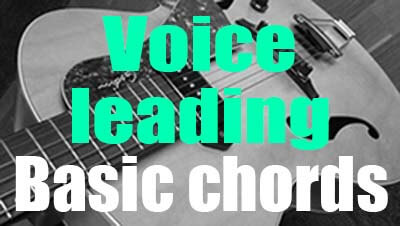 Voice Leading For Guitar - Basic Chords - 5 Easy Exercises
What is Voice Leading in Music?
"Voice leading" is a term that refers to the smooth progression of each voice of a chord. This technique consist to move individually one or several voices up or down by a step from one chord to the next.
Voice leading is very used by composers and improvisers in order to connect chords instead of bouncing them around.
The aim of this lesson is to connect or voice-lead basic four-note chords of the same types by moving only one voice. This technique is very fun and should help you learn some of the most important chords used in jazz guitar.
chords voicings drop 3 chords voice leading