Why Playing Jazz Makes You a Better Guitar Player?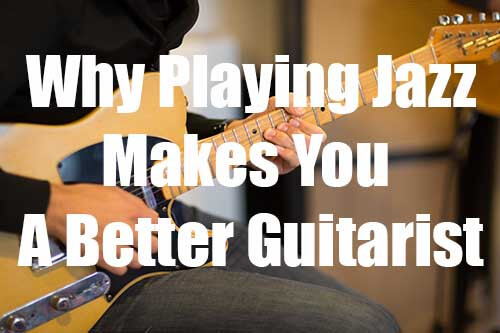 Why Playing Jazz Makes You a Better Guitar Player?
Guest Post by Paul Mills
Jazz is like a game. To play it you need to know the rules. Everyone are saying that jazz is about improvisation, and in a way, it is. But in order to know how to play (and when is written play, think of it as a play of the board game game) you need to learn the rules.
Jazz is not about imitating solo of Wes Montgomery or Django Reinhardt. For sure, lot of the people could learn just from hearing the music and imitating the style. But jazz is much more then it, and this text will try to define why jazz makes of everyone a better musician, and what is needed to be done in order to achieve this advantage in skill.
Firstly, let us think about what is so characteristic about different jazz players, such are: Pat Metheny, Django Reinhardt, Marc Ribot, Miroslav Tadic, Pipo Corvino and others.
When we are hearing some of their music piece we can hear the character, we can instantly know that that is the sweet tone of picking gipsy guitar, recorded during WW2 somewhere in Paris, or dusty distorted sound from the streets of New York, or melty sound of the distant traveling's, old Balkan melodies resonating trough the classical guitar sound.
All of this explains that every important jazz musician has its own sound, which he has got by combination of lots of training, imagination, heritage and knowledge.
Some of the players never get on this level, but in order to get close it is important to play with other people, to exchange experiences, to hear what the others have to say about your playing skills. You could start to play standards, there are lot of FAKE BOOKs (the chord books of jazz standards), on the internet, that could be a guidance to you.
There will be lot of unusual chords at the beginning, but that will challenge you to learn, and to practice more. In the jazz standard there is a lot more than in the basic rock song. Rock and roll has been developed out blues and jazz. At one point it has been the simplification of both. You will need to learn different rhythms such are swing, and bossa nova, and many others that are played in the jazz world.
Sometimes in one song there are two or more change of rhythm. So, for this reason for the beginning start listening to the most famous Jazz standards and try to analyse songs, rhythm changes, all chord progressions, intervals, the structure. Try to write it down for yourself, analyse your favourite song, and try to guess what makes them the best songs for you and other people. What is that secret, that makes that song great? It is not easy to answer to this question, but it is important to ask.
The list of songs for listening:

- Django Reindghart – Minor Swing
- Pat Metheny – Last train home
- Wes Montgomery – Round Midnight
- Frank Sinatra – Fly me to the moon
- Getz/Gilberto – Girl From Ipanema

These songs are of a different style, but all of them are considered as jazz. You will hear that the solos in the songs are improvised, but actually they are sounding as they are planned to be that way, and that is the real reason why the guitarists who are playing, are considered as the best.
Their instrument is their voice, they know it god and they are transferring it to the all of the others, and giving the others chance to learn something new and to enjoy in their style. Your goal as a future jazz guitarist, would be to discover how this solos were played. They are in a way played by intuition, but also, this intuition is backed with the knowledge.
The goal is not to imitate but to develop your own language. You are playing the standards, but try to find your way of playing them. Work on it, and think of it as an interesting challenge. Change the tempo in some song, and after try to play it in the different rhythm.
All of this should provide you with the better skills, as you are learning and practicing new things. By analysing the different stiles, you are progressing, all the time, you are understanding the songs much better then hearing them on the first sight. In time, you will be able to recognize different structures of the songs just by listening to it once.
You would not need to know much then the key and rhythm in order to play with someone. Jazz practicing time will give you the wide list of skills that you will need to understand in order to use them and in order to play with confidence and joy.
As was sad at the beginning, jazz is like the game in which there are lot of rules. But when you learn the rules, you are able to feel the wealth of the freedom that you have just by knowing the jazz music theory. After this you are able to play any style of music, just by plugging your guitar and hearing what other are playing.
It gives you the opportunity to understand the structure of any song, and to know in which modulations the song could go. The jazz is about different possibilities and different choices. It's in a way the DnD of music, with different worlds incorporated under one phrase. If you want to play it then you need to invest more time than in other genres, but the result will be instant The guitar is not stand alone instrument (but it could be), and jazz is mostly played by bands.
You will be the better musician as well as a better guitarist, and for everyone around you it is important to relay on your understanding of music. If you start play jazz, you will end up in a slow start, but much faster and richer advancement of your playing style. So for that reason, start to play!
About author
Paul Mills is one of the most creative mixers with instinct and prowess. His project Beatsbooster is the ultimate guide for everyone buying their first headphones or earbuds on every budget and for any purpose.