Home

/

Jazz guitar lessons / Blog
Jazz guitar lessons / Blog

Welcome, this blog gives you information about the latest publications (free lessons, news) on the website. Don't hesitate to leave constructive comments or any improvement using the comment form at the bottom of each page.
Thanks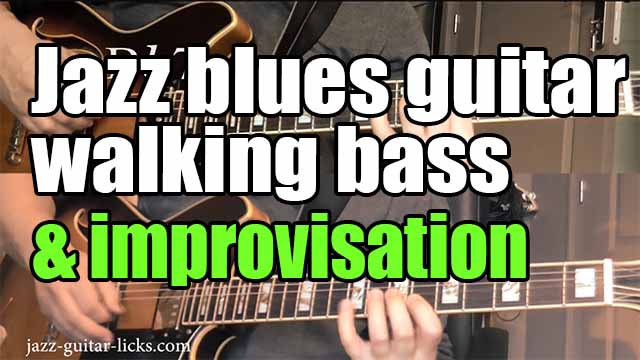 This lesson is about a 12-bar blues in the key of Bb included two guitar transcriptions with tabs : a guitar walking bass line for the accompaniment and a guitar improvisation to solo over.
Note that this study is based on a common blues jazz progression but with a descending chromatic progression in bars 7 & 8 using three dominant 7th chords (Bb7, A7, Ab7) to approach G7 at the end of the bar 8.
Bb7 | Eb7 | Bb7 | % |
Eb7 | Edim7 | Bb7 A7 | Ab7 G7 |
C-7 | G7 | Bb7 G7 | C-7 F7 |