5 Mixolydian Patterns with Diagrams and Tabs for Guitar
5 Mixolydian Patterns with Diagrams and Tabs for Guitar
The Mixolydian mode also known as dominant scale is the fifth mode of the major scale. It is one of the first obvious choices when soloing over dominant chords (7th, 9th, 11th, 13th). It is built with root (1) - second (2) - third (3) - fourth (4) - fifth (5) - sixth (6) and minor seventh (b7). You will find in this lesson two guitar neck diagrams and five easy jazz guitar patterns to help you take the Mixolydian mode onto the fretboard.
40 Mixolydian Jazz Guitar Licks - PDF Method -Tabs & Analysis
Here are two diagrams to play the Mixolydian mode on guitar.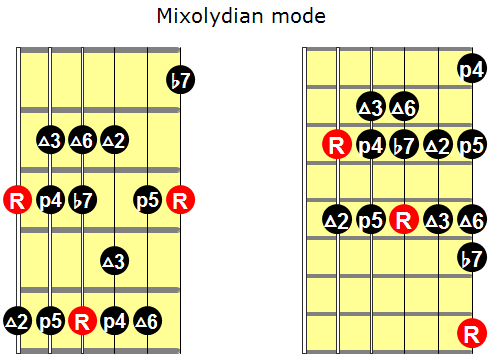 5 Easy Mixolydian Patterns for Jazz guitar with Tabs
How to take the most of these patterns
Practice each pattern with a metronome. Slow at first, then try to increase progressively the speed.
Transpose them in all 12 keys.
Try to vary the fingerings by adding various techniques as slide, hammer-on, pull-off.
Build your own Mixolydian patterns.
Try to Apply each lick into your improvisations.
Try to incorporate related dominant chords into these lines.
Play the chords while singing the phrases.
Play the patterns while singing the root, the third, the fifth or the seventh.
Last edited: 2020-09-21